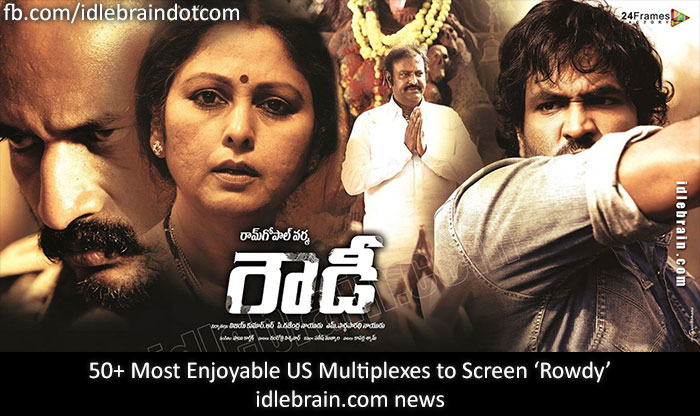 2 April 2014
Hyderabad
At 10 dollar a ticket price audiences in America can look forward to an exciting non-stop enthralling full family entertainment moments boxed up in Ram Gopal Varma's film 'Rowdy'
Rowdy's interest has grown beyond India and the excitement for the film in America has brought more cheer for its distributor 24 Frames Factory. Over 50+ multiplex cinemas in USA have zeroed in to screen the RGV directed Mohan Babu and Manchu Vishnu, action – entertainment film Rowdy which opens on April 3 in United States of America.
"It is a big moment for the Telugu film industry as the movie goers in US are raring to go and watch the most anticipated Telugu film this summer with its big pre release buzz gaining global momentum. So, we wanted to ensure that the audiences in USA experience the magnificence of Rowdy's intense drama, action and song sequences in top notch multiplex cinemas." Distributors of the film 24 Frames Factory said.
"The biggest surprise of all is that the show tickets are not inflated" Incredible as it may seem, you can walk into the top and best multiplex and buy Rowdy movie ticket for $10. Distributors of the film Rowdy announced. The best movie theaters always make the movie better, so the 50+ multiplexes which will show the film boasts an enticing ambience coupled with the best quality viewing and sound systems that the audiences love.
Movie watching with friends, family or even own self is a thoroughly enjoyable popcorn and pampering moment these days. We want our audience to have a wholesome entertaining experience without burdening them with extra cost. This will enable more number for film enthusiasts to watch the film in comfort. The producers of the film added.
Rowdy is a family action-entertainer set in the background of Andhra Pradesh Rayalaseema Faction ridden region directed by Ram Gopal Varma. With its gripping drama and high voltage action sequences and scintillating music the movie is well packed to enthrall the audience from start to finish.
For the first time in his career of 40 years and 560 films, Actor Mohan Babu will look very realistic in 'Rowdy'. RGV who is known for realistic action dramas added lot of intense into Mohan Babu's Character in the film also convinced him to sport his natural look without toupee to create uniqueness to his character. Rowdy also reunites the yesteryear hit reel pair Mohan Babu and Jayasudha after a very long gap.
The pre- release promotion of the film garnered excellent reviews and response. The internet and theatrical trailer of the film, a super catchy duet song on Vishnu Manchu and Shanvi and the title song crossed millions of views and shares virally and continue to do so even now.
The film will be released on April 3rd in USA and rest of world on April 4, 2014.