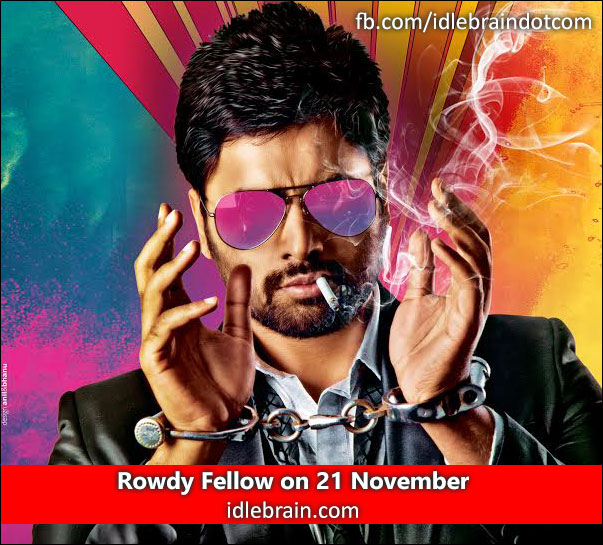 03 November 2014
Hyderabad
The success of 'Rowdy Fellow' will once again prove to the world that when an ace Lyricist turns Director, the movie is destined to come alive with beauty, honesty and sheer love for cinema. Krishna Chaitanya, the Director of 'Rowdy Fellow' is a highly celebrated Lyricist, and is now well on his way to join the list of top Directors with this film. "Moogavaadidi oka vidhamaina mounamaithe, pedavadidi maroka vidhamaina mounam. Moogavadu maatalu raaka matladadu, pedavadu anni telisina matladadu." (The silence of a dumb man is of one kind whereas the silence of a poor man is of another. While the dumb man doesn't speak because he cannot, the poor man doesn't speak even though he knows everything). These words are sure to make anyone think twice about the plight of the world. This concept oriented story is so skilfully intertwined with commercial elements that it will make 'Rowdy Fellow' a one-of-a-kind cinema.
"Nara Rohit's performance as a Police Officer will stand apart as a special attraction to the film. There is no doubt that this movie will be the biggest commercial hit of his career," said the Producer. Moviemills and Cinema 5 banners combined to bring to you ace Lyricist Krishna Chaitanya's debut directorial venture with Producer Prakash Reddy.
Producer Prakash Reddy reveals some of the most awaited news regarding this Nara Rohit and Vishaka Singh starrer. "The recently released songs and trailers have both received enormous positive feedback from the audience. Sunny MR's songs have quickly climbed to the Number One spot on all chart busters. And every individual who has heard the songs has expressed their opinion that the music has a certain unique quality which sets it apart from the rest. There is also unanimous expectation that the film itself will be similarly different and new in its ideology and story telling. The success of the film will once again prove that audiences of today are looking forward to, and encouraging cinema, which is unique and comes forward with a fresh concept."
With the completion of the recently picturized 'Aa Seetha Devi Navvula' and 'Entha Vaaru Gaani songs in Goa, the film's shooting has come to an end. All efforts are underway to release the film on November 21st. Rao Ramesh, Posani, Ajay, Supreet, Paruchuri Venkateshwara Rao, Praveen, Taalluri Rameswari, Gollapudi and others have all performed splendidly. Producer Prakash Reddy is all smiles with anticipation.