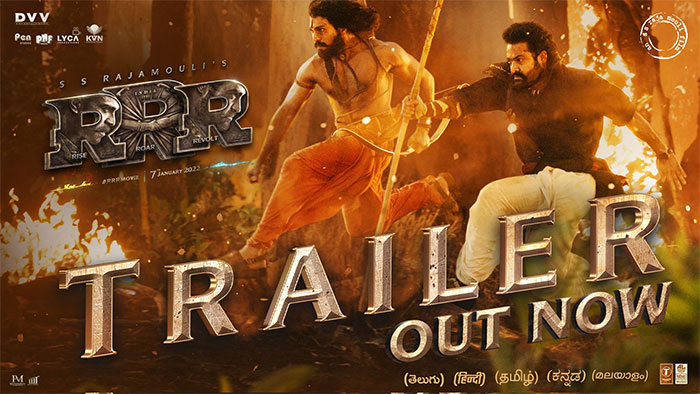 7 December 2021
Hyderabad

Cutting a trailer for a massive film like RRR is a gigantic task. Just like there is a script for a film, a script for the trailer needs to be written. Who else knows it better than the master filmmaker SS Rajamouli. The trailer opens with the conflict point of a missing girl who is taken away by a high-level British official. Bheem (Jr. NTR) - who is her protector steps in and creates havoc. To counter him, the British employ their effective Sepoy Ram (Ram Charan). After initial fights, they become friends when they coordinate a massive rescue on a bridge. They show the camaraderie between Ram and Bheem (that might be the MotorCycle Diaries inspiration SS Rajamouli told in an event) . Then comes the occasion where Ram arrests Bheem for committing crime against the British government. They unite again to fight against the British. And ends with a spectacular coordinated attack! This is the script of the trailer. But the flow of events and the main conflict point might be different.
RRR trailer flow
It starts with Rajeev Kanakala visiting a British officer and complaining about the Governor taking away a girl from the Gond tribe. When they retort with 'em rendu kommuluntaya', Rajeev gives an elevation dialogue - 'oka kaapari (protector) vuntaadu'. It's the introduction for the Bheem character played by NTR. Highlight of the introduction scene is the faceoff between NTR and Tiger. This is followed by another elevation dialogue - 'Pulini pattukovalante vetagadu kavali. Aa pani cheyagaligedi okkade'. This is the introduction for Ram character played by Ram Charan. Then starts the friendship of Ram and Bheem which has one key scene (clasping each other's hands below the bridge of which burning train is travelling). This scene is said to be the 'goosebumps' scene in the theatre when you watch the full movie.
The next elevation scene is the dialogue by Ajay Devgn - 'Yuddhanni Vethukkuntoo Ayudhalu ave vastai'. This dialogue is followed by Ram Charan appearing in Seetaramaraju get-up with arrow and will. A moment all Ram Charan fans have been waiting for in the trailer. Then comes the ferocious Bheem flipping a bike in the air. The reunited Ram and Bheem are in for a climactic moment when they attack a guard on watchtower with a coordinated feat.
How is the trailer?
One word! It's spectacular. It has got action and emotion in epic proportions. There are three goosebumps moments (NTR facing the tiger, Ram Charan's entry as Seetharama Raju and the final coordinated fight sequence). It satisfied the fans of both stars equally well. And raises the expectations on the film phenomenally.