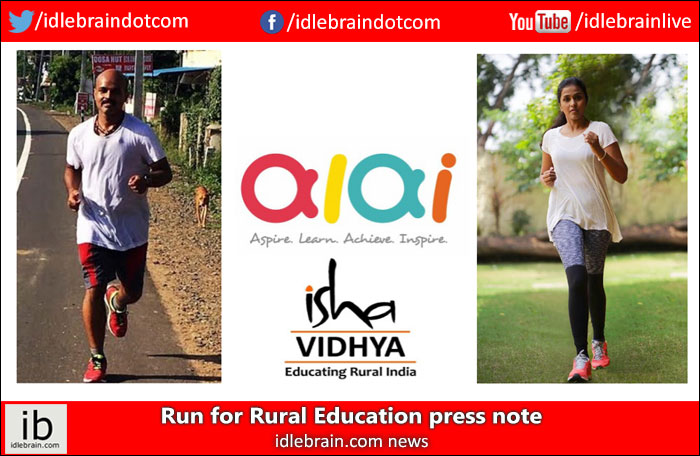 7 October 2016
Hyderabad
Education is the most important tool which leads one from ignorance into the light of knowledge and wisdom.
Who
Run for Rural Educaiton (RRE) is the brain child of Smita(pop singer) and Kiran.
ALAI is founded by Smita who is the first and the only pop singer from southern India with more than 10 albums and 150 playback songs to her credit. Being a serial entrepreneur and a social activist, she understands the positive impact that an educated and skilled rural society can have on the country. Smita is also supporting challenged children in Khammam since the last 12 years and is associated with Isha foundation since 8 years.
A member of ALAI- Kiran, who works with Philips Lighting , is trying to make things better. Kiran who is very passionate about this cause and who finds RUNNING close to heart has come up with this initiative to run.
ALAI in collaboration with Isha Vidya, the educational initiative of Isha Foundation, is conducting the Event - Run for Rural Education(RRE) along with the people, who find the need of improving the rural education close to their hearts, to support this noble cause.
How
Kiran would start on October 11th, which happens to be an auspicious day of Vijaya-dashami, from Vijayawada and would reach Vizag by foot. Along with him, a few enthusiastic celebrities from Tollywood viz., Nikhil, Sharwanand and a few more would be flagging off at different locations. Smita would also be running along with Kiran on the first day and the last day of the run. Also, volunteers, friends and the students of Sri Chaitanya Educational Institutions would be joining him at various locations through the run. TFL The food lounge, Vijayawada will be the official Nutrition and logistic partners for the entire run.
Media is going to cover the run at major mile-stones like the start point which is Vijayawada, the mid-point which is Rajahmundry and the end-point which is Vishakhapatnam.
What
Unfortunately, children in rural areas have access only to Govt. schools, where standards leave a lot to be desired and which fail to meet parental aspirations for their children.
ALAI, along with Isha Vidhya aims to provide the following major inputs for the Govt. schools:
• hiring teachers to reduce the student-teacher ratio
• hiring teachers for special instruction to integrate slow learners into the regular classes
• adoption of a English language program for the whole school
• adding hitherto neglected aspects like sports, yoga, arts & crafts and healthcare
• basic training for teachers to adopt child friendly teaching methods: maintaining discipline without physical punishment, motivating children, lesson planning, access and use of classroom educational aids and digital content
To facilitate quick development of the slow-learners, several educational aids developed and used at Isha Vidhya schools are made available to the remedial teachers in the Govt. schools. Teachers are also provided with clear skill based outcomes to be monitored and test papers to be administered every term, to assess the progress of the children. In addition, worksheets developed in-house have been provided to the students, both for class-work as well as home work, to reinforce conceptual learning and for practice assignments.
Why
This event is to spread awareness about this new and improved format of education in Telugu speaking states. It aims to provide high quality education to rural children, thru Government School Improvement Program (GSIP).
Run for Rural Education(RRE) is to open the door for providing underprivileged rural children access to high quality education and the holistic, activity-based approach similar to that of Isha Vidhya's educational system, which nurtures children's development beyond just academics, ensuring that students realize their full potential and learn in a joyful manner. Hence, RRE is to increase the awareness of the importance of rural education and also to enable like-minded people to contribute for the cause. Run for Rural Education is amongst the first of its kind to happen in AP and would spread awareness at all prominent locations en-route.
Apart from direct donations for the cause, funds would be raised through a crowd-funding portal www.ketto.org
Where
Kiran would start on October 11th from Vijayawada and would reach Vizag on 18th covering 350km by foot on the National Highway-16 passing thru Hanuman junction , Rajamundry , Yalamanchili, Tuni and  Ankapalli  covering an average of 50km per day.

Route-map for the Run: 350kms
Route: Vijayawada to Vishakhapatnam covering Total of 366kms
Starting point of the run is TFL, Mogalrajpuram, Vijayawada
| | | | |
| --- | --- | --- | --- |
| Day-1 | 11th Oct | Vijayawada  to Hanuman Junction | 43kms |
| Day-2 | 12th Oct | Hanuman Junction to Nallajarla | 63kms |
| Day-3 | 13th Oct | Nallajarla to Rajahmundry | 50kms |
| Day-4 | 14th Oct | Rajahmundry to Jaggampeta | 38kms |
| Day-5 | 15th Oct | Jaggampeta to Annavaram | 44kms |
| Day-6 | 16th Oct | Annavaram to Nakkapalli | 43kms |
| Day-7 | 17th Oct | Nakkapalli to Anakapalli | 39kms |
| Day-8 | 18th Oct | Anakapalli to RK beach | 46kms |