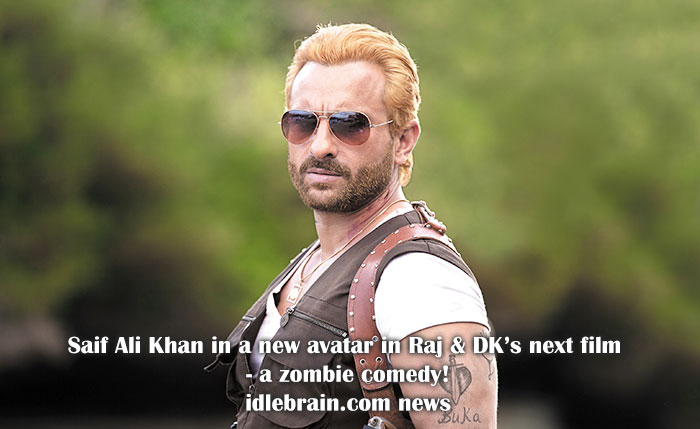 24 March 2013
Hyderabad
BORIS, THE ZOMBIE HUNTER!
Saif Ali Khan in a new avatar in Raj and DKs next film – a zombie comedy!
Saif Ali Khan takes on the role of a macho, gun toting Russian Mafioso, Boris in Raj & DK's next film, Go Goa Gone – a zombie comedy. He got into the skin of the character. He dyed his hair blonde, inked in prison tattoos, beefed up and got a Russian tutor to play the rugged zombie hunter.
Saif is also producing the film with partner Dinesh Vijan, under their banner Illuminati Films, along with Sunil Lulla of Eros International.
When Raj Nidimoru and Krishna DK, both natives of Andhra Pradesh, coming off the widely acclaimed Shor In The City zeroed upon Go Goa Gone as their next film, they knew they were pushing the envelope. Raj states "A zombie film in Hindi was unheard of until then." DK adds "But we were sure that this is the film we would like to make next."
Go Goa Gone is an unusual mixture of hilarious comedy, slick action and zombies! A unique combination of fear and funny makes this film a one-of-a-kind genre bender and a first of its kind - A Zombie Comedy, or ZOMCOM!
"I loved Boris from the first time I discovered him. He is tough and cool, but also very funny. He has a good heart and is brave. The dynamics between him and the boys is hysterical. I was very excited to play Boris the zombie hunter and even happier to produce this film," says Saif.
Dinesh explains, "There hasn't been a character like Boris or a concept like this on Indian screens. This is exactly what got us excited to make this film. The zombies will keep you on the edge of your seat and the humour will make you fall of it - making it a zombie comedy… a ZOM-COM! Hopefully it'll be a genre defining film for us."
"We have always liked being associated with cinema that's a keeper. Go Goa Gone will be that one film you will find hard to forget and would want to go back and watch. It is always about taking the next step in the movie business and we are glad we are a part of this project," says Sunil.
Being the first of its kind, it's not easy for any producer to green light a film like this. But the director duo was pleasantly surprised when they met the producer duo! Saif was said to be in splits when he heard the story. And by the end of the meeting, it turned out to be very easy to get the project going.
Along with Saif Ali Khan, the film stars Kunal Khemu, Vir Das and Anand Tiwari. The film is all set for a summer release. Watch out for the first look and teaser trailer of Go Goa Gone this week.