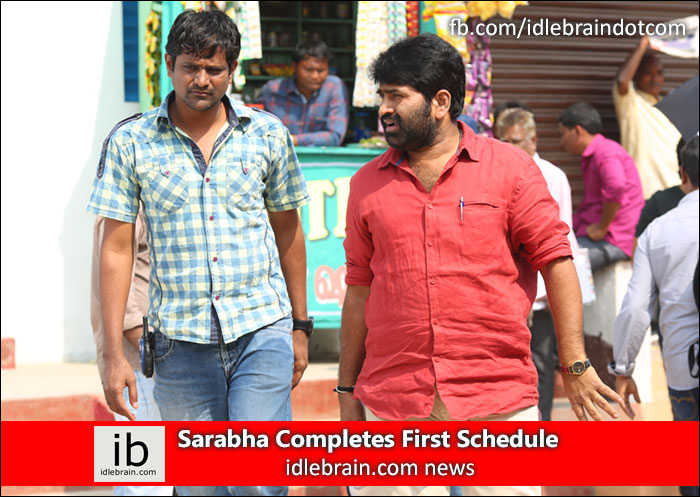 19 February 2016
Hyderabad
AKS Entertainment's "Sarabha", starring Aakash Sehdev and Mishti Chakraborty in lead roles under N. Narasimha Rao's direction, has just completed its first schedule in different locations of Polkampalli village and Ramoji Film City.

Having worked with renowned director Shankar for many years, N. Narasimha Rao is ready to make his directorial debut with "Sarabha", a contemporary socio fantasy story with a backdrop of human emotions.

After "Robo" and "Baahubali: The Beginning", "Sarabha" with an exceptional budget, is said to be South India's next spectacular visual experience. India's finest VFX studio FireFly and world technician Sean Foot for Prosthetic make-up are said to be working on this film.

"The main cast members, Jayaprada garu and Nasser garu have excelled in both the humorous and emotional scenes said the director. "Especially my crew has been very supportive and I am so grateful," he added. Being a first film director I'm getting enormous support from my producers and I am confident that this film will be a visual feast to audience looking at the grandeur and emotional depth in story and I am making it with the support of my entire cast and crew, he further added.

It has been confirmed that key scenes that include the main cast have already been shot. Producer Ashwani Kumar Sehdev stated that the second schedule is to begin on February 22nd and continue on until the first week of March in Ramoji Film City and Mysore.

Napoleon, Puneeth Issar, Charandeep, Ponvannan, Avinash, L.B. Sriram, Prudhvi, Raghu Babu, Rakesh, Duvvasi Mohan will also feature in "Sarabha".

Senior music director Koti is composing music. "Baahubali"Editor Kotagiri Venkateswara Rao and art director Kiran Kumar Manne are working for this film.

Renowned personality Trotsky Marudu Sir is the Visual Effects Supervisor for this film.