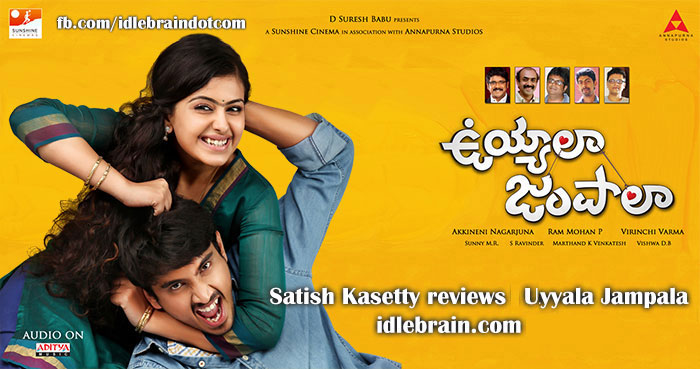 30 December 2013
Hyderabad
I don't know what I set out to write, it definitely is not a review.
But some movies make me write.. write what I feel about them.

Uyyala Jampala is one such film..

"Uyyala Jampala" is a 124 minute film. A film that has nether a big villain, nor a big plot, nor any twists and turns. It is a very predictable film. Everyone there in the theatre know what the next scene is going to be, some could guess what the tenth scene is going to be too. And almost everyone knew what the end is going to be. But still it makes people to sit and watch the film, get involved in the film.
What makes it so special, why does it work, what is making the film work?
This film follows some basic principals of film making..
Tell stories which the audience know. i.e tell what audience know. This film does exactly that, it dint tell anything which we all don't know.
A story has to be thin, the main line or point (as most call) has to be small. It is the way you tell that has to be great. This film proves that point. Honestly if one were to dissect the film and rip it apart, you wont see a great story. This film proves what good writing can do to a film.
Half the job is done, If you get your cast right. This film proves. For once we feel, good about every character in the film, no one looks out of place.
Recognizing the talent, taking a risk, and backing up the new director by the producer is of great importance.
I always say and believe that, " good cinema never fails". If it fails, it will be for some external forces or conditions. This film "Uyyala Jampala" had no such problems; because even they were taken care off.
I also believe, "there is no publicity better than, mouth publicity".  This film again scores on that front.
Lastly, it feels so good to see Mr. Nagarjuna promoting this film. I always thought the people like him and Mr. Suresh babu, and all the big heroes and directors should come out and promote "good cinema". Lend their name to a film and its promotion. Of course only if they believe in a particular film not a person.  My request is only for their intent..
Lastly congratulations to the director of the film, you have given hope to a lot of short filmmakers out there, that they too can make it big.
Congratulations to producer Ram Mohan. I have known him for quite a while now, and I knew what a good filmmaker he can be. He proved it with his first film, and now taking one more step of writing the story of Uyyala Jampala, along with the director, has proved it.
I big "Thank you" every one of the cast and crew of the film, along with the producers of the film for giving such a beautiful film.  Looking forward to seeing many more such films in future too..