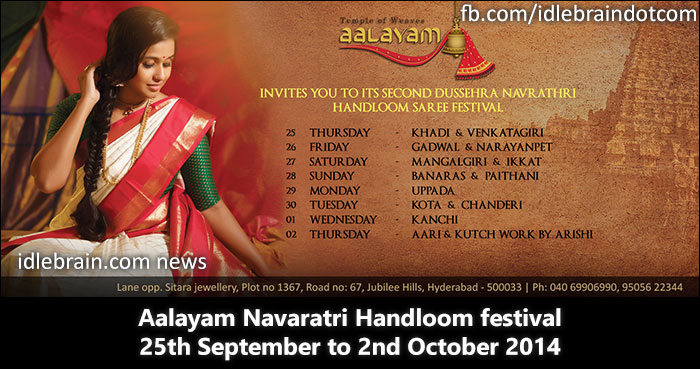 25 September 2014
Hyderabad
Aalayam, Temple of weaves is an exclusive handloom store started by Pop singer Smita and renowned Designer Shravan Kumar at Road No.67, Jubilee Hills, Hyderabad. Aalayam showcases exclusive handloom sarees from across India.
Smita who has been very passionate of handlooms, spent a lot of time around weavers and looms as she was growing up. She later met Shravan who always promoted handlooms through his designs and shows nationally and internationally. They both started the store an year ago with the intention of supporting Indian weavers and work towards reviving many weaves which are slowly becoming extinct. An Aalayam Society was started to work towards upliftment of weaver community. One of the recent initiatives undertaken by the society was distribution of Charkas to Khadi weavers.
During the nine days of Navaratri, Aalayam organises a festival as celebration of feminine divine and Indian weaves. Along with Devi Alankarana – Puja, an exhibition and sale of a special weave of sarees is held each day at the store. On 25th Khadi and Venkatagiri, 26th Gadwal and Narayanpet, 27th Mangalagiri and Ikkat, 28th Banaras and Paithani, 29th Uppada, 30th Kota and Chanderi, 1st Oct Kanchi, 2nd Aari and Kuch work.
Its an invitation to support and celebrate the rich heritage of Indian weaves.
Store Address –
Aalayam, Temple of weaves
Lane opposite Sitara Jewellery
Plot no. 1367, Road no. 67, Jubilee Hills,
Hyderabad – 500033
Phones : 040-69906990, 95056 22344