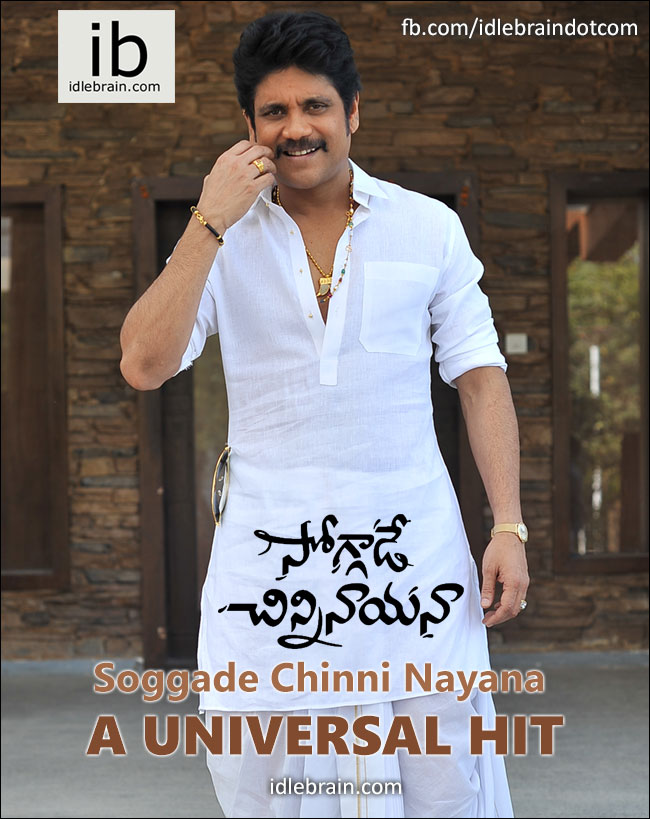 18 January 2016
Hyderabad
Nagarjuna has been reiterating since Bhai debacle that he will do films that he enjoys doing it. He has been consistently proving his statement true by delivering enjoyable films. Manam has brought back the euphemism in film industry with a variety story that connected three generations of Akkinenis.
His 15th January 2016 release - Soggade Chinni Nayana, which is a socio-fantasy is doing extremely well across the centers. Bangarraju's role is being appreciated and enjoyed by all the patrons. This is the back-to-back hit by Annapurna studios after Manam movie.
We have seens films being segregated as class films and mass films. Generally, the performances of films have been varied in different centers (A, B or C) depending on the content. Soggade Chinni Nayana which has family content with entertainment orientation is being received well in A, B and C centers.
Nagarjuna who has come very close to Telugu people through his hugely successful Meelo Evaru Koteeswarudu has made sure that he is not disappointing them with his choice of scripts. Nagajuna who is called as celluloid scientist for introducing new directors has introduced another successful director Kalyan Krishna with Soggade Chinni Nayana.
In a well placed out strategy, Nagarjuna has released SCN in limited theaters compared to other biggies of Sankranthi. All the theaters are going houseful, thereby generating double positive talk.
In USA, Soggade Chinni Nayana was released in less number of theaters (Nannaku Prematho was released in 160 whereas SCN was released in 80). The ticket price is just $12 dollars unlike Nannaku Prematho which is $16. Despite that, Soggade Chinni Nayana ended collecting $585,183 by Sunday.
No other big hero would generally dare to attempt either a village based subject or a socio fantasy in recent times. Nagarjuna who has terrific judgment has made sure that he has hit the gold with Soggade Chinni Nayana.