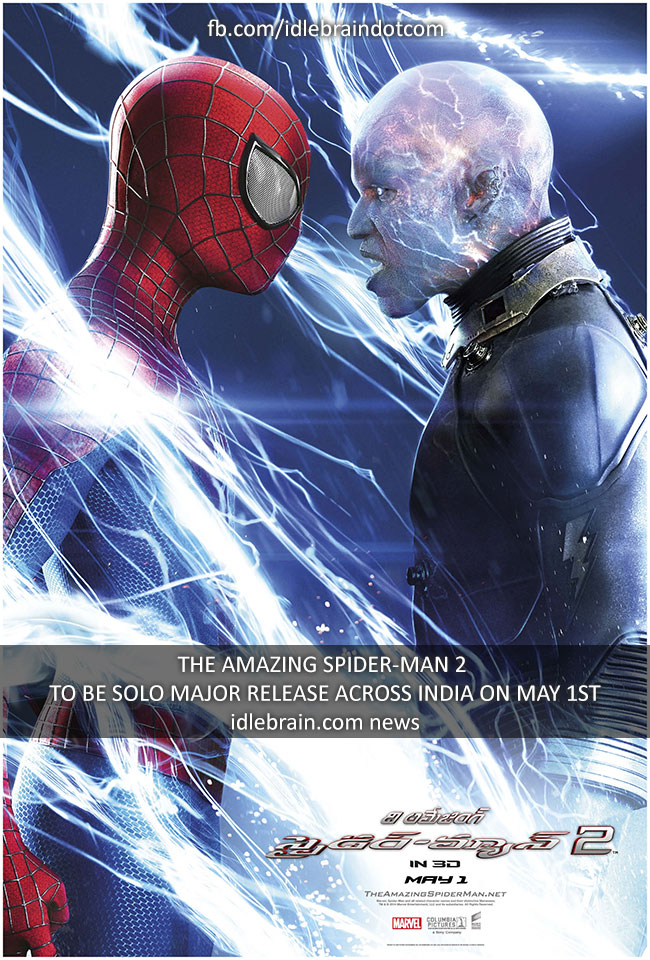 25 April 2014
Hyderabad
Indian audiences are in for a treat as this year's most awaited blockbuster The Amazing Spider-Man 2 is all set to release on Thursday, May 1st 2014 - a day before the US. It will be the solo major release in all territories across India on that date and will release in English, Hindi, Tamil and Telugu and in 2D, 3D and IMAX 3D.
Kercy Daruwala, Managing Director – Sony Pictures India commented, "The release date will take advantage of the fact that most states have a public holiday on May 1st. As it is, The Amazing Spider-Man 2 releases during the opportune school and college vacation period which is ideal for our audience. We are also happy to have the only major release on that date across India, including Tamil Nadu."
The Spider-Man franchise has garnered a larger box office than any other Hollywood franchise in India. Back in 2012, The Amazing Spider-Man had the widest release of any other Hollywood film in the country and still holds the record for the biggest opening weekend at Rs. 34 cr. The franchise has grown release-on-release with the lifetime box office of The Amazing Spider-Man, which was at Rs. 90.1 cr, being over three times of what it was for the first Spider-Man film back in 2002.
Mr. Daruwala added, "Exciting marketing promotions are being planned for The Amazing Spider-Man 2. Respected Tamil actor and TV personality, Subbu Panchu is dubbing super villain Electro's voice in Tamil while Bollywood actor Vivek Oberoi is dubbing Electro's voice in Hindi. We have also done something special in collaboration with 'Extraaa Innings', Sony Max's IPL wraparound show and you will see much more of that as the IPL progresses. So we are connecting with the masses through the nation's two favourite pastimes - local films and cricket. We also have many interesting media partnerships coming up that are firsts in this space and there will be many more developments rolling out in the next few weeks so stay tuned."
The most successful franchise in the history of Columbia Pictures, Spider-Man is embraced all over the world. The four Spider-Man films to date have taken in over $3.2 billion worldwide. Spider-Man is licensed to Sony by Marvel Entertainment.