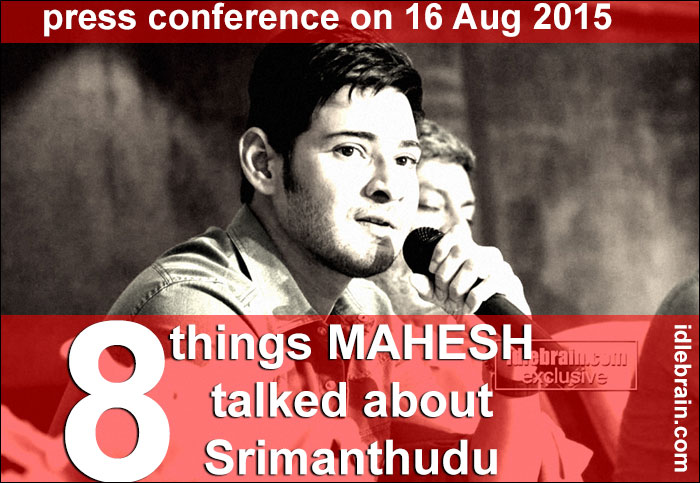 16 August 2015
Hyderabad
Mahesh Babu is media shy and is very reserved in press meets. He has opened up a lot in today's press conference. He cracked jokes and talked to media in a friendly way. Here are 8 interested things he has told in the press meet -
The success hasn't sunk in
The best day in my career spanning 15 years is 7 August 2015. The success hasn't sunk in us yet. It's a feeling that can't be explained in words. I had always been passionate and honest while doing films. But, I have earned respect as an actor with Srimanthudu. Srimanthudu film has generated the best appreciation. I feel that money would automatically follow if we make a good film. I expected it to become a hit, but the magnitude of success is completely unexpected.
Going to adopt Burripalem soon
After completing two schedules of Srimanthudu, my brother-in-law Jay Galla suggested that I should adopt my native village Burripalem. If I had adopted Burripalem then, people might mistake it to be a promotional strategy for Srimanthudu. I am going to adopt Burripalem in a few months and an official announcement will be made soon.
I have realised the importance of publicity
I am usually shy with media and public. I have realized the importance of publicity while working for Srimanthudu. It's not because I was also a producer. For a film like Srimanthudu where content is different, we need to prepare audiences. That's the reason why stressed on village adoption in teaser, theatrical trailer and interviews. Audiences should know in advance what they were going to see in the film.
I believe in spontaneity
Lot of people ask me if I had done any home work while doing different characters like Harsha and emotionally intense scenes like the pre-climax episode. The performance in pre-climax scene came straight from heart. Jagapathi Babu was in suggestion shot and I saw tears in his eyes by the time scene is completely shot. I never do any home work and I believe in spontaneity.
Sky is limit for Telugu Cinema
We have seen Telugu cinema making new frontiers. This is not something that is surprising. Because Telugu people are very passionate about cinema. All they need is the good cinema and right cinema. If we give them a quality film, sky is the limit for the box office.
Srimanthudu is the most flawless script among my films
I am indebted to Siva Korarala for giving me Srimanthudu script. He tells me that direction is nothing but telling a story. He has such a simple clarity about his work. Srimanthudu is definitely the most flawless script in my career.
I am convinced about wearing Lungi in Srimanthudu
I wore Lungi for a song in Pokiri. After that many people have asked me to wear Lungi in film/songs to create mass-feel and excitement. But, I was completely convinced when Siva told me the scene and asked me to wear Lungi. I wore it and acted though I am not comfortable wearing Lungi.
My brother Ramesh bought a flower bouquet for the first time for me
My son usually doesn't watch films. For Srimanthudu, he went to a theater and watched it. He has immensely liked it. My daughter Sitara too liked it. Sitara remembers entire lyrics and sings all songs of Srimanthudu. My dad Krishna never appreciates me in person. But he appreciated me for Srimanthudu and I had tears in my eyes. My brother Ramesh bought a bouquet and presented it to be for the first time for a film. Venkatesh came to my house and discussed about the film for 1 hour.
click here for photo coverage and Telugu content of the press conference.