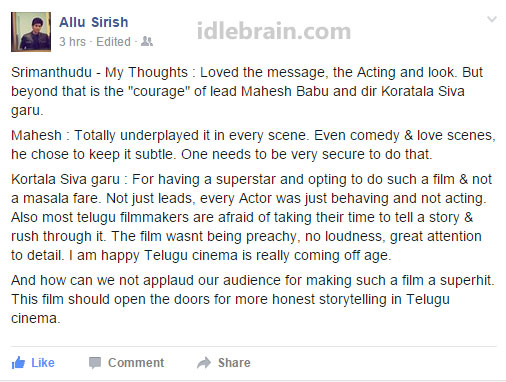 10 August 2015
Hyderabad
Allu Sirish is not just an actor, but a passionate movie lover. He is pretty expressive when he likes a film. He has recently watched Srimanthudu and wrote about his thoughts on the movie on his personal Facebook account. We are reproducing it here -
"Srimanthudu - My Thoughts : Loved the message, the Acting and look. But beyond that is the "courage" of lead Mahesh Babu and dir Koratala Siva garu.
Mahesh: Totally underplayed it in every scene. Even comedy & love scenes, he chose to keep it subtle. One needs to be very secure to do that.
Kortala Siva garu: For having a superstar and opting to do such a film & not a masala fare. Not just leads, every Actor was just behaving and not acting. Also most telugu filmmakers are afraid of taking their time to tell a story & rush through it. The film wasnt being preachy, no loudness, great attention to detail. I am happy Telugu cinema is really coming off age.
And how can we not applaud our audience for making such a film a superhit. This film should open the doors for more honest storytelling in Telugu cinema."