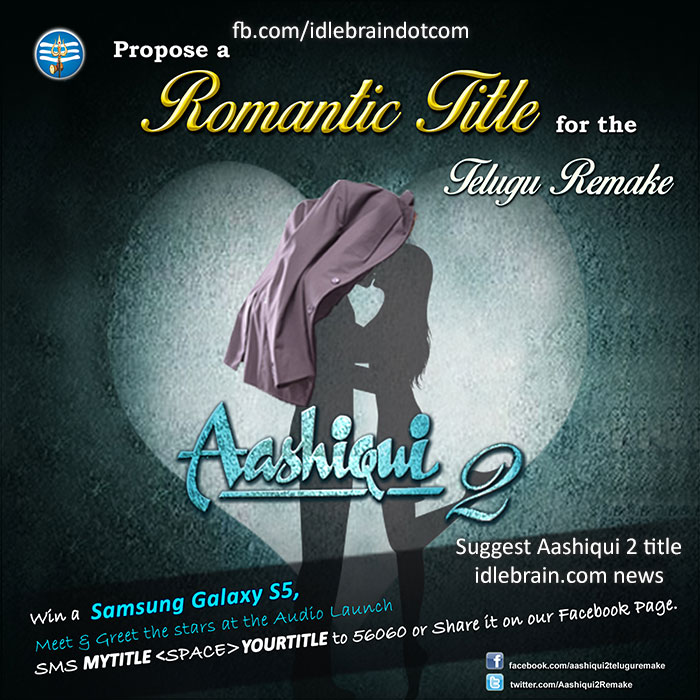 15 May 2014
Hyderabad
If Tollywood is your passion and you love playing with words, here's an exciting opportunity for you to come up with a title for the remake of Aashiqui 2 and if you're lucky, a Samsung Galaxy S5 could be yours.
Producer Bandla Ganesh is bringing the romantic Bollywood Blockbuster of 2013 'Aashiqui 2' to the Telugu Industry, remaking it with Sachiin Joshi and Nazia Hussain in the lead roles, under the banner 'Parameswara Art Productions'.
The film will be directed by "Bumper Offer" fame Jaya Ravindra.
You can be a part of this film too. How? Simple. Come up with a title for the Telugu remake and participate in the 'My Title for Aashiqui 2' contest. The title you suggest should be simple, attractive and relevant to the film's theme. If your title gets selected, it will be the official title of the film and you'll get to share the stage with the actors during the music launch of the film as well as a brand new Samsung Galaxy S5.
Excited? So what are you waiting for. Put on your thinking caps, jumble up the words and write to us as soon as possible. Follow the contest on Facebook and Twitter. Use the hashtag #MytitleAashiqui2Telugu and tweet about your participation.
Ashiqui 2 remake crew
Hero: Sachin
Heroine: Nazia
Producer: Bandla Ganesh
Director: K.Ravindra