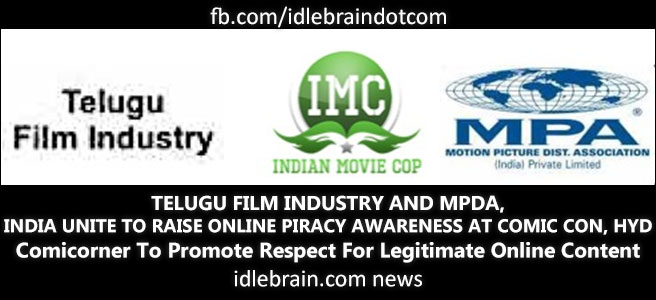 10 September 2015
Hyderabad
The Telugu Film Industry, Indian Movie Cop and the Motion Picture Dist. Association, India Pvt. Ltd. have collaborated to launch an interactive campaign through Comicorner to raise awareness on the threats of online piracy at the 2015 Comic Con being held in Hyderabad, on 12-13th October. Comicorner aims to engage audiences at the two day event through interactive activities which will include 'creating your own look as a superhero and an opportunity to create your own comic strip.'
Clearly, youth are our biggest audience for all movies & creative content today. Its important to engage with them, communicate with them to foster greater respect for Copyrights and secure their participation to stop Movie Piracy. ComicCon is an exciting and fun platform to propagate this message more effectively. We have seen tremendous enthusiasm among youngsters to partake in the Main bhi Superhero contest last time and we are sure this time the response will be even better.
Suresh Babu Daggubati- President, Telugu Film Chamber of Commerce
In the digital age, every youngster could be a creator and he can distribute his creation through a variety of platforms across the world, at no cost, or in no time. In this scenario, it is important to draw the attention of the youth to show how respect for copyrights is imperative and rewarding and how they can partner with Movie Industries to Stop Movie Piracy and enlighten their peers. 
Enforcing copyrights alone is not the solution to Movie Piracy. Spreading awareness about the Issue is as important. ComicCon is a fantastic platform to demonstrate this message and we are happy  to collaborate with Motion Picture Distributors Association that represents all major Hollywood Studios, to unveil this second edition of the Main Bhi SuperHero Contest which is Great FUN!!! Rajkumar Akella , Chairman, Governing Council, Anti Video Piracy Cell, Telugu Film Chamber of Commerce
"There is a growing need to build respect for original creative works. Comicorner presents an ideal platform to engage with both comic and movie fans to educate them about the need to protect the film industry by discouraging illegal downloads and supporting legitimate online content platforms," said Uday Singh, MD, Motion Picture Dist. Association, India Pvt. Ltd.
Participants at the Comicorner will be given an opportunity to become content creators themselves and post their original work on Facebook: Facebook/ComicornerHyd.
ABOUT THE TELUGU FILM INDUSTRY: 
The Telugu Film Industry is the second largest film Industry in India. With its passionate movie loving audiences and its dynamic Filmmakers, the budgets and revenues of Telugu Films are often on par with Bollywood Movies. The popularity of Telugu Films is leapfrogging in international markets, fueled by the large Telugu diaspora. With a large IT community among its people, the Telugu film industry has also been at the forefront of waging a sustained war against online and offline Piracy, through innovation and collaboration with regional movie industries across India and the world.
ABOUT THE MPDA: 
The Motion Picture Dist. Association (India) Pvt. Ltd. (MPDA) is a wholly owned local office of the Motion Picture Association, and represents the interests of six Hollywood studios: Paramount Pictures Corporation; Sony Pictures Entertainment Inc.; Twentieth Century Fox Film Corporation; Universal City Studios LLC; Walt Disney Studios Motion Pictures; and Warner Bros. Entertainment Inc. MPDA works with closely with local industry, government, law enforcement authorities and educational institutions to promote and protect the Indian film and television industry. For more information, please visit: www.mpaa-india.org
ABOUT iMovieCop (IMC):
iMovieCop is a multilingual, multi-platform anti-piracy mobile application. It is a proactive initiative by the Indian film industry spearheaded by the Telugu Film Industry and Motion Picture Distributors Association (MPDA represents the Six major Hollywood Studios) to help promote awareness about movie piracy and protect creative content. The mobile application was launched in 2013 by Ms. Nancy Powell, former US Ambassador to India. For more information, please visit: www.indianmoviecop.com. Twitter Handle: @imoviecop