19 November 2015
Hyderabad
QUIRKY CHARACTERS of "TANU NENU"
"ALLARI" RAVI BABU AS BANDIREDDI SARVESWARA RAO
"Keerthi America ki velli, naaku dabbulu pamputhe..nenu oka pedda illu…pedda car konukunnta!!!"..
The lazy, diabetic, twice heart attacked, good for nothing, sadistic, mean character of Bandireddi Sarveswara Rao. The biggest obstacle in the Hero's love story. He gives "silence" punishments to his wife, manipulates his daughter, banishes his son from his house because he did not live his dream.
Sarveswara Rao is someone who was so desperate to go to America like his brothers did. And is now trying to live his dream through his children.
Played by the one and only "Allari" Ravi Babu.
Sunshine can sum up Ravi Babu by giving just one example. We sent him the script. He read it and asked to meet. He took out his phone and showed his picture. With thick glasses, a mustache and a look that was exactly what we were looking for!! We have never an actor more prepared for a role that he has…Being a director as well, Ravi Babu helped our new team on many occasions voluntarily…Forever indebted to him…We can say with confidence that he played an award winning role.
.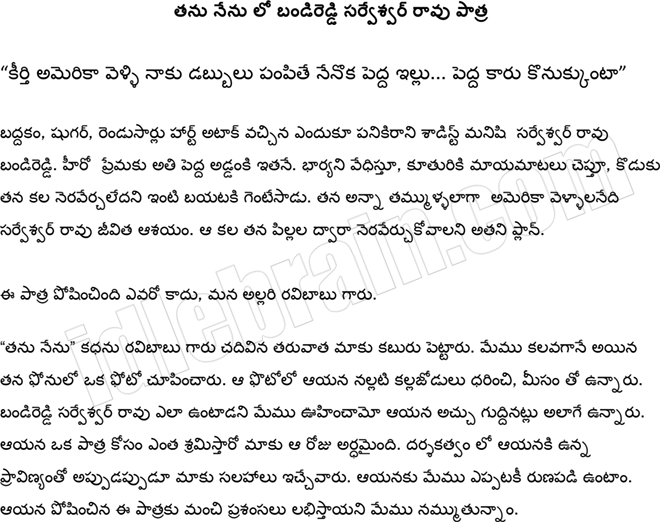 Other quirky characters of Thanu Nenu:
• Satya Krishnan as Bandireddy Bhavani
• Abhishek Maharshi as Naresh