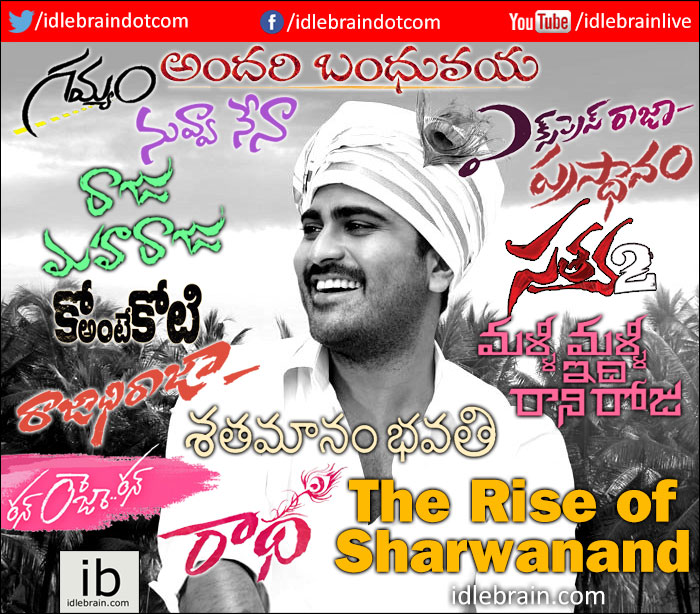 6 March 2017
Hyderabad
Sharwanand who has started his career with supporting roles in 2004 has come a long way. Though he is a close buddy of Ram Charan since school time and a relative of famous producer Sravanthi Ravi Kishore, those connections didn't help him to grow big. He has the opportunity to act with Chiranjeevi in Thums Up TV commercial and was offered a guest role in Shankar Dada MBBS. He has also done a buddy character in Sravanthi Ravi Kishore's Gowri film (starring Sumanth and Charmme). He has also acted in a remake/dubbing of Malayalam blockbuster '4 The People'. It was dubbed and partly re-shot by replacing a character with Sharwanand and was released in Telugu as Yuvasena by Sravanthi Ravi Kishore. His connections with Mega family and Sravanthi Ravi Kishore only helped to get minor roles.
However, it was Krish who helped Sharwanand to register his first hit as a hero with Gamyam film. It was followed by Deva Katta's Prasthanam which brought him rich accolades as a subtle actor. His Tamil film Engeyum Eppodhum became a blockbuster. It's dubbed as Journey in Telugu and went on to become a runaway hit.
UV Creations banner fresh from the success of Mirchi has made a film Run Raja Run with a budget which was above the market value of Sharwanand. This different entertainer became an instant hit. He has acted in a class love story 'Malli Malli Idi Rani Roju' in the direction of Kranthi Madhav. It has got critical acclamation and had a decent run at box office. UV Creations produced another film titled Express Raja with Sharwanand and released it for Sankranthi. It went on to become a big hit despite having a huge competition. His latest film Shatamanam Bhavathi was also released for Sankranthi and was pitted against Chiranjeevi's 150th and Balakrishna's 100th film. It has become the highest grosser in the career of Sharwanand.
Innocence personified
There is a lot of innocence in Sharwanand's face and it helped in films like Amma Cheppindi and Run Raja Run. All the viewers of Amma Cheppindi had tears in their eyes because of the writing of climax as well as the performance of Sharwanand. The twist in a con film like Run Raja Run worked big time because nobody thought innocent looking Sharwanand would have an ace up his sleeve towards the climax.
Not credit-mongering
Sharwanand is the perfect example for the saying - Slow and steady wins the race. Most of the audiences mistake characterization to acting. In films like Gamyam and Prasthanam, Allari Naresh and Sundeep walked away with credits. Allari Naresh's entertainment oriented characterization followed by death made audiences like Gaali Seenu character. But, it was Sharwanand's character that's tough to perform. The maverick attitude of Sundeep Kishan got him good credit in Prasthanam, but it was Sharwanand's poised/subtle acting that's difficult to perform.
Sharwanand should be thankful to UV Creations which has been backing him up with high budget productions and to Deva Katta who has given memorable roles in Vennela and Prasthanam. And also to Krish who gave him his first commercial hit Gamyam by casting him as Abhiram.
Sharwanand's next film is Radha which is going to release for Ugadi in which he plays the role of an entertaining cop. He is currently shooting for a film directed by Maruthi (currently titled as Mahanubhavudu). Sharwanand had always been conscious of his selection of scripts (few aberration in my opinion were Nuvva Nena and Satya 2). He has created tremendous goodwill because of his intent. Let's hope that he will continue to choose good scripts and entertain us with nice movies!!