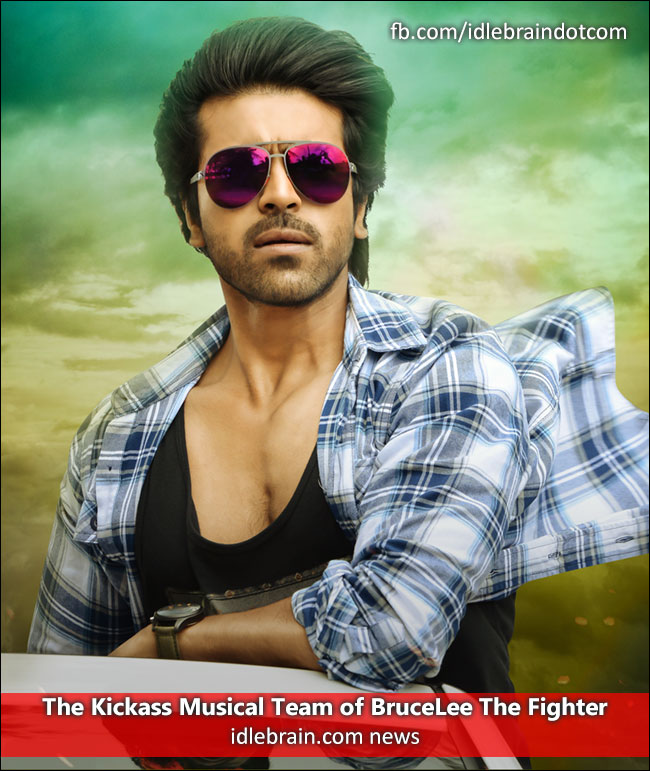 06 October 2015
Hyderabad
Since the audio launch, BruceLee The Fighter songs seem to be quite picking up among all music lovers. The album definitely has perfect mix of romantic, dance and energetic numbers.
Run is an energetic number that is a unique in its own way as a hero introduction song. "When it is for Ram Charan, the songs should be high on energy and should have scope for dance. so, for Run we ensured that it is a powerful song," says Thaman about composing it. "In the current scenario, wherein hero introduction songs have generally lyrics filled with emotions, for this song we tried having message oriented lyrics that showcase the struggle of life."
Riya is a romantic number with a unique music programming. "As Riya is a solo hero romantic number, there was lot of expectations from the crew of how the song would come out. In this we tried different programmings styles like Dubstep which allows charan to show his amazing dancing skills. Sreenu garu is always in for new things and I am happy that the song has come out really well. This song is very close to me. Also, we got the best rapper in Malaysia to sing this song," feels Thaman
"This song is very close to my heart. Thaman has done a very good job," says Ramajogayya Sastry .
Kungfu kumari is a racy dance number. "We can call it a semi massy number and we have used lot of electronic stuff that makes the dance a best choice for dancing. I love the way it is presented. While we tuned itself, sastry garu gave us words," says Thaman
"The song is a mix of mass and class. Thaman his training under Manisarmagaru into action. The moment thought of writing this song, the word "Mega meter" flashed and in a day the song was penned without corrections and approved in the first draft," shares Ramajogayya Sastry
Leh chalo, the first released song, that everyone has been humming a lot is the first song that brought BruceLee The Fighter into auditions. "Firstly thanks for making this song such huge hit. The word "Leh Chalo," was right there from the moment the tune was made. The shooting scheduled started with the shoot of Le chalo and Riya so it was pressure for me to compose them by the time the shoot starts. The chemistry of charan and rakul is fabulous," feels Thaman
"Leh chalo is a sweet a memory. Since the day it released it has been becoming like a chant among music lovers and has been received quite well. Flute bit is my favourite. The lyrics have been simple and sweet," shares Ramajogayya Sastry