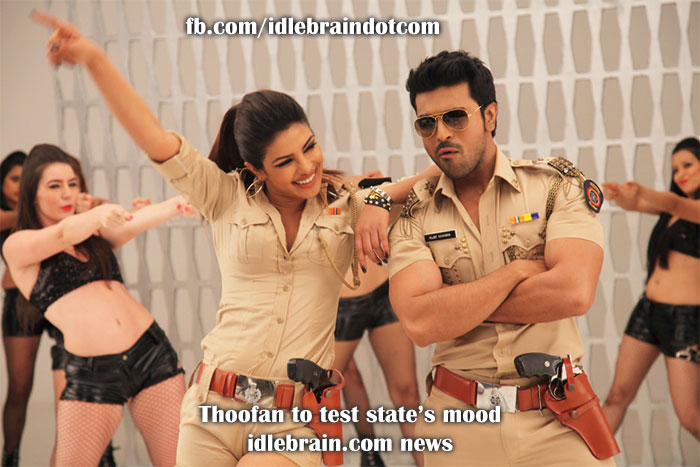 4 September 2013
Hyderabad
Ram Charan is going to be the first hero to test the mood and approach of emotionally charged people towards big film releases. With Samaikyandhra movement going on in full throttle, big films like Yevadu and Atharintiki Daaredi got postponed. Any big film which is made with an astounding budget over 50 crores can't afford to lose openings.
The big filmmakers are so cautious about the precarious situation in AP that they don't want their film to be released first. Thoofan being a Telugu version of a Bollywood film Zanjeer had no option but to release along with it's bollywood counterpart. The release of Thoofan is going to gauge the mood and reaction of Samaikhyandra's movement towards big film releases. The repercussions could be more for a film belonging to Nandamuris and Mega camp because both these families are directly connected with Telugu politics which played major role in announcement of Telangana state which in turn has prompted the genesis of a highly emotional Samaikyandhra's movement.

Films like Bhai (Nagarjuna) and Masala (Venkatesh & Ram) have not launched their music yet as they don't want big gap between film release and music launch as the product may become stale. As per the sources of idlebrain.com, the audio of Ramayya Vastavayya is not going to release on 8 September which clearly means that the release of the movie is pushed to October.
The release of Thoofan will become a testing ground. The people's reaction towards Thoofan film will influence the course of action for other biggies. If Thoofan is unaffected, then you can see a heavy rush of Telugu film big releases starting from the end of this month.
Will Thoofan weather the storm (thoofan) of Samaikhandhra movement or not? Wail till 6 September!!