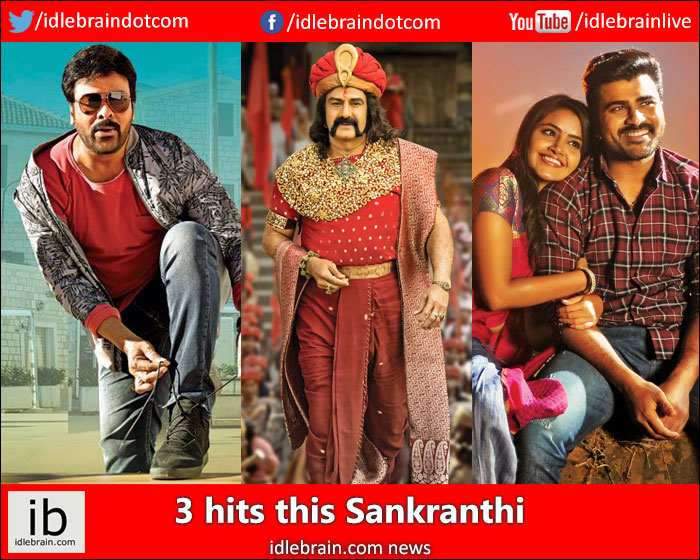 16 January 2017
Hyderabad
Khaidi No. 150, Gautamiputra Satakarni and Shatamanam Bhavati which are released on 11, 12 and 14 January respectively turned out to be hits at box office. Sankranthi season has always been the favorite festival for filmmakers. The main reason why Sankranthi is favored for multiple releases is that at this time of the year, all farmers will get profits from their produce and are willing to spend money on recreation. Last year too, Sankranthi films did well. But this year, has an exceptional year in the recent times.
Each of these three films have unique selling point.
Khaidi No 150
Khaidi No. 150 was touted as comeback film of Chiranjeevi who drifted into politics 9 years back. The openings and talk of the film has proved that Chiranjeevi has continued where he has left 9 years ago. This film is creating records in lots of places with terrific collections. In addition to entertainment and masala, this film has a heart touching and burning subject as the core. In USA too, this movie has crossed the magic figure of $2 Million by 1st weekend. In Nellore, this movie has collected a share of over 2 crores in 5 days which is an unmatchable record. In a territory like Vizag, Khaidi No. 150 has collected a share of over 8 crores in 5 days and it was sold for 7.8 crores for this territory.
Gautamiputra Satakarni
Balakrishna has never cared for safety and has always being doing what he thinks is correct. That's why he was able to do classic films like Aditya 369, Bhairava Dweepam and Sri Ramarajyam in the past. He had an option to do a mass film with big commercial directors, but opted for a historical subject. Krish who has been growing from film to film has come up with the story of Satakarni - a forgotten Telugu king. The USP of this film is Telugu pride. This film has created curiosity among Telugu movie lovers right from the day it was announced. And now Telugu movie lovers have made it mandatory to watch Gautamiputra Satakarni in theaters. Despite of having competition at box office, Gautamiputra Satakarni has been getting terrific collections all over. This film has crossed $1 Million by Sunday in USA and is poised to collect much more. It's already into profits in USA. This film has taken Krish to the next league and given Balakrishna a window where he can afford to do many more films from different genres (especially historicals, mythologicals and folklores).
Shatamanam Bhavathi
Dil Raju is known as a producer of family films. He has earned that tag with the classic Bommarillu and has been continuing the tradition since then by giving family films like Mr. Perfect and SVSC with star heroes. Sharwanand has succeed last Sankranthi with Express Raja. Since Khaidi No 150 is of mass genre and Gautamiputra Satakarni is of class genre, it was not a risky decision to release a family film during Sankranthi. And that strategy of Dil Raju worked well. This film has started with houseful collections right from the first show. $416k was the highest collection for a Sharwanand film in USA in the form of Express Raja. Shatamanam Bhavathi is crossing that number on Sunday and is all poised to become first half million dollar film for Sharwanand in USA.
Saankranthi 2017 turned out to be a sweet one for Telugu film industry with all three films doing well as they are in three different genre. It's a Sankranthi where each film complemented another and not fought with each other. It's nice to see stars like Mahesh Babu and Rajamouli for coming in open to praise two big films equally well. It bodes well for Telugu film industry.