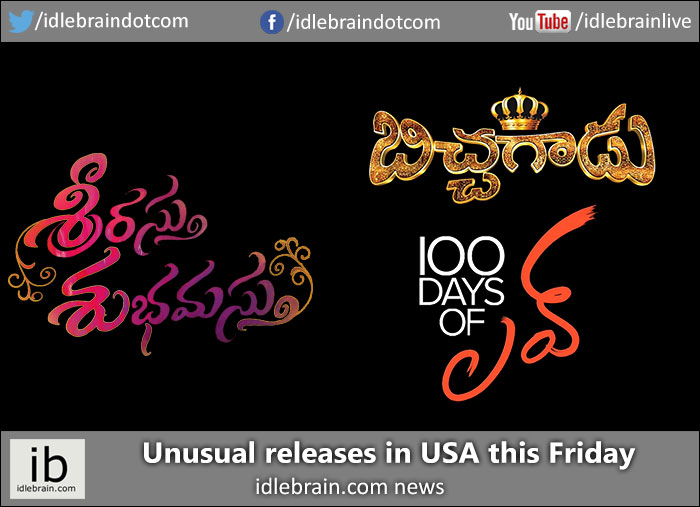 25 August 2016
Hyderabad
Telugu film business is booming in USA with a good content small film like Pelli Choopulu raking more than million dollars. The distributors are making sure that no stone is unturned to spot any potential opportunity.
1. Bichagadu: Laksh, who is the producer of Bichagadu is uncompromising while promoting his film. This film (dubbed version of Tamil film) which was released a week prior to Brahmotsavam got noticed by all as weeks progressed and it collected huge money and ended up celebrating 100 days in few centers (a rarity these days). Now Laksh want to test the potential of this film by releasing it for the first time in USA in association with Cine Galaxy.
2. Srirastu Subhamastu: Srirastu Subhamastu is doing pretty good in India with over 32 lacs of viewers watching it. But, Manamantha dominated it's USA release with good reviews. Hence, Srirastu and Subhamastu didn's get it's fair share as it grossed over $55k. Now the USA distributor Classics want to exploit it this week by re-releasing the film in 22 screens as there is no bigger release in USA this week.
3. 100 Days of Love: 100 Days of Love (Dulquer Salman and Nitya Menen) was released in March 2015 in Malayam. This film is being dubbed in Telugu with the same title and releasing today. BlueSky has acquired rights.
The above three films pose an interesting scenario about how USA distributors are vying for the attention of Telugu movie lovers in USA.