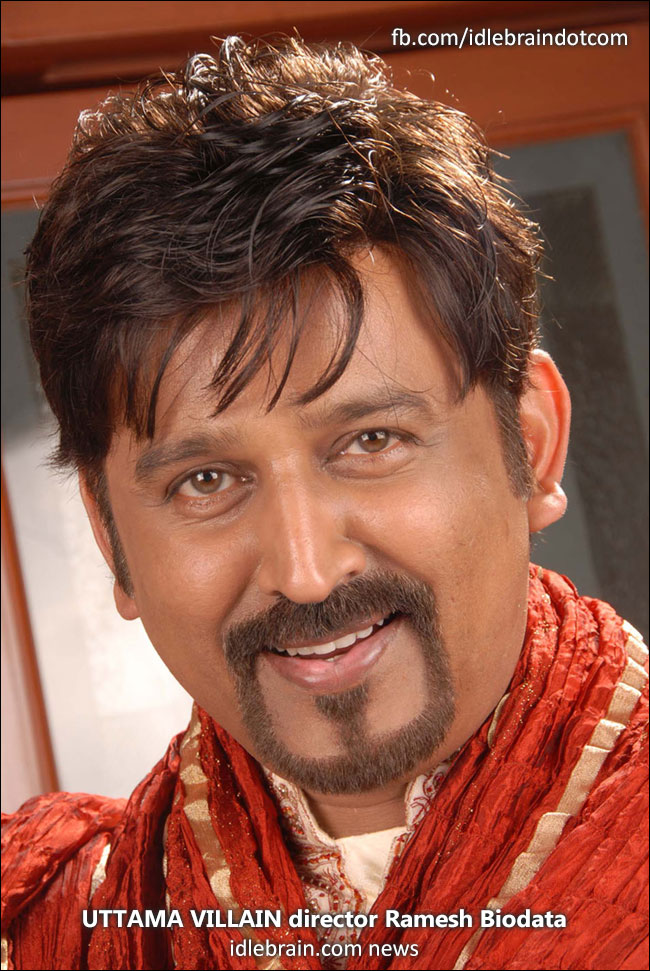 18 March 2015
Hyderabad
One of the most popular Kannada stars for more than 20 years now,RAMESH ARAVIND is an accomplished ACTOR, SCREENWRITER, DIRECTOR , TV SHOW HOST,AUTHOR,&Celebrity Radio Jockey.He has worked in films in 6 Languages.Right now ..He is directing a Tamil film "UTTAMA VILLAIN" starring Mr.Kamalhassan.He is hosting the hugely popular "WEEKEND WITH RAMESH" TV show in Kannada.

As ACTOR: He has to his credit, about 95 Kannada films, 30 Tamil films, 10 Telugu films and 2 Hindi films as the leading man.

Notable films:KANNADA : Rama Shama Bhama, Amrutavarshini, America America, Ulta-palta, Apthamitra, Panchamaveda, The Sir Series, Nammora Mandara Hoove, Hoomale etc

TAMIL : Sathi Leelavathi, Panchatantram, Duet, Keladi Kanmani, Vasanthakala Paravai, Kutty, Rhythm, Manmadan Ambu etc

TELUGU : Sathi leelavathi, Panchatantram, Golmaal, Little Soldiers, Rudraveena, etc.

MALAYALAM : 'Avan Anantapadpanaban' where he played the role of a mentally challenged boy.

HINDI : 'Mumbai Express' as the bucktoothed insurance agent and 'Aur Ek Prem Kahani' in lead role.

TULU: Nirel.

As DIRECTOR : RAMA SHAMA BHAMA - His debut directorial film starring Kamal Hassan and himself. It is considered as a classic and one of the biggest hits in Kannada films.

SATYAVAN SAVITRI - His second directorial film starring himself, Jennifer Kotwal and Daisy Boppana turned out to be a big hit as well.His next two directorial films -- ACCIDENT and VENKATA IN SANKATA were very well received. Both films completed a successful run of 100 days.His next NAM ANNA DON was a comedy about "Healthcare for all".Next in pipeline as director is "UTTAMA VILLAIN" starring Mr.Kamalhassan.
As STORY WRITER HOOMALE, AMRUTADHARE , ACCIDENT, NAM ANNA DON, CHATRIGALU sir CHATRIGALU

As TV HOST : He hosted 2 seasons of 26 episodes each of the Family Quiz show "Raja Rani Ramesh" which was a huge hit on ETV.

He hosted the hugely popular celebrity talk-show "Preetiyinda Ramesh" on Kasturi channel for a year.

Now WEEKEND WITH RAMESH is on air in Zee Kannada.

As RADIO JOCKEYHe co-hosted the breakfast show on BigFm for 12 weeks as Celebrity RJ and changed the landscape of breakfast shows in Banglore.
The laurels he has received for his work:

Two FILMFARE awards for BEST ACTOR,
Two KARNATAKA STATE awards for BEST ACTOR,
A SCREEN award for BEST ACTOR,
The Udaya TV award for BEST ACTOR,
The UdayaTV award for BEST DEBUT DIRECTOR.
Raghvendra Cine Award for BEST STORY WRITER

RAMESH ARAVIND has authored 2 books,one inspirational fun book in English titled "ITS NO FUN WITHOUT YOU" and a Kannada Book "KHUSHYINDA RAMESH"

Further: ` He is the brand ambassador for CMCA (Children's Movement for Civic Awareness) which aims at keeping the cities of Bangalore, Hubli and Mysore clean and green.

`He was the Brand Ambassador for Election Commission urging citizens to vote in 2013 elections.

`He is brand ambassador for DIGNITY FOUNDATION which aims at graceful life for Senior Citizens.`He has been part of several campaigns to spread awareness about HIV,

AIDS in Karnataka.`The Times of India chose him as One of the 7 Nicest people of Bangalore.