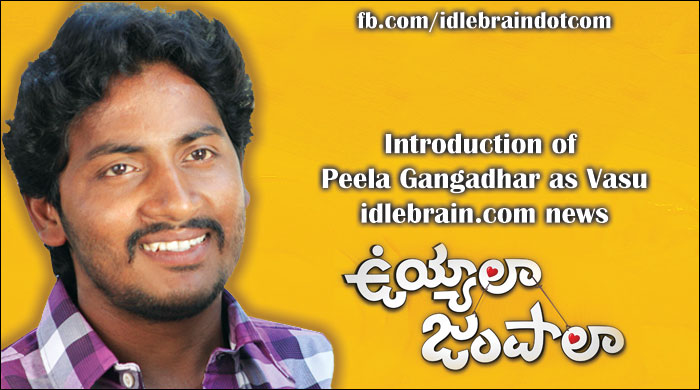 19 December 2013
Hyderabad
Character Vasu
We all have one friend in our group who is is always helpful, very positive, trusting and always has a good word for others. Such a friend will do anything for you ! Negative thoughts never cross their minds and they see nice things in everybody and sympathizing with everyone. That is the character of Vasu. A naïve, positive simpleton guy!
The constant companion of Suri, Vasu is mostly blundering his way by being positive about every situation and every character they meet. His naivety makes his character even more interesting as he mostly ends up saying the wrong thing at the wrong time!
Actor Peela Gangadhar
So many people come to this Industry from poor backgrounds wanting to see themselves on the screen. Peela Gangadhar was there in almost 17 films till date and hopes "Uyyala Jampala" will finally draw attention to his acting abilities.
Peela came to Hyderabad post 10th class from Ongole. His first job was that of a security guard at a leading actors house. That's when he wanted to become an actor! Peela acted in many films till date but he never gave up.
Peela was auditioned twice for the same role. This role is a critical one as the humor quotient is high and duration of character is also long. May his dreams come true with Uyyala Jampala!
Jeevi review about Peela Gangadhar's performance
Peela impressed me with minute expressions that generate hilarious entertainment in the last part of theatrical trailer of Uyyala Jampala. All it takes is one film for getting the right break for any actor irrespective of any number of films he did in past. Like Thagubothu Ramesh in Ala Modalaindi, Peela is going to get the right recognition with this movie. The most hilarious scene in the film containing him is the scene where he goes along with hero to spoil the alliance of heroine. His reactions are hilarious.