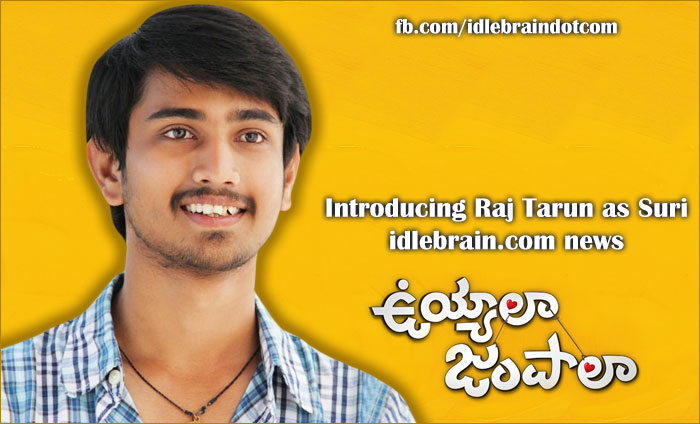 18 December 2013
Hyderabad
Character Suri
Suri is the quintessential next-door boy character. Born and brought up in a village called Koonavaram in the picturesque Konaseema region, Suri is a free spirited young man whose only purpose appears to be making fun of his "maradalu", Uma Devi!
Suri is a hard working lad in the village. He has to make a living and shoulder the responsibility of his widowed mother. Both of them live in the smaller house right next to where his uncle, Uma Devi's father and his grandparents stay.
He and his friends hang out at the tea stall on the main road of the village most of the time. Calling himself "Koonavaram King", Suri runs a business that is unique and smelly. Can you guess what it is??!!
Actor Raj Tarun
Hugely popular in the youtube circuit for his short films, Raj Tarun is now 21 years. He joined Ram Mohan two years back in Sunshine Cinemas after dropping out of his engineering course. He made his first short film as an actor-writer-director at the age of 16 and along with Virinchi Varma and Ram Mohan, Raj Tarun worked on the screenplay and dialogues of Uyyala Jampala. When Akkineni Nagarjuna recommended that a fresh faces should be cast in the film, Raj Tarun became the automatic choice of the team. The first day of shoot was the first film shooting Raj Tarun ever attended in his life! When you watch the film, do send in your guess as to what scene that was the first ever scene of Raj Tarun!!!
Jeevi review of Raj Tarun performance in Uyyala Jampala film
Raj Tarun doesn't look like a hero material. But he will surprise you with his performance in Uyyala Jampala. His authentic godari accent that reflects a bit of innocence and a bit of humor (vetakaram) will surely impress you. He may look lean, but justified the only action sequence in this film. It is a kind of film that shows the point of view of hero. Hence it's the hero who can make or break this kind of a film. Raj Tarun is a kind of performer who can make films with decent content hit with his work. One can't imagine any other actor in the role of Suri. Raj Tarun will have a tough time later because he need to select films with decent content for his future films and we have very few such films made in Telugu film industry. Lets hope that he will use this film as a good foundation with careful selection of scripts for his future.