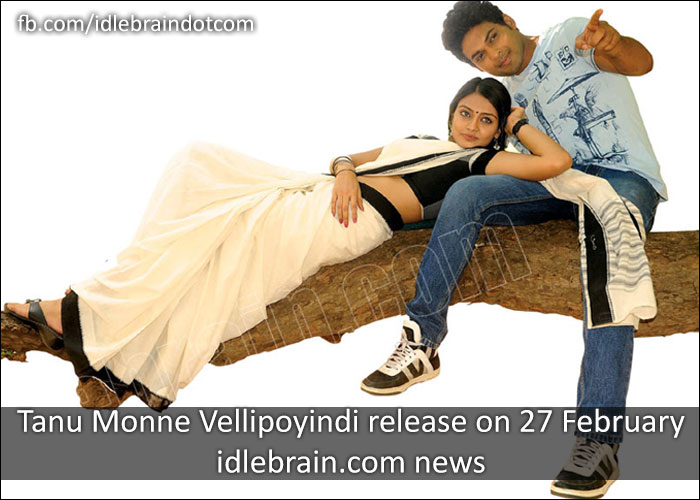 13 February 2014
Hyderabad
Director Vamsy has a flair for making movies that are special and go well with the common man. His cinematography, music, wit and themes hold superior significance, whether it is April okkati vidudala or Sitara or Ladies Tailor where the nativity reflects.
True to his proficiency his latest offing is coming in the form of Tanu Monne Vellipoyindi. The movie is likely to release worldwide on the 27th of February. Needless to say the fans of Vamsy are highly inquisitive of Tanu Monne Vellipoyindi. Sources say the movie has shaped out really well with a clean family entertainment, and a pinch of thriller element to it. The audience will be glued until the end to find out the suspense element. Does this remind you of Anveshana, yes Vamsy brought the legend cinematographer M.V. Raghu from his old epic Anveshana to be part of Tanu Monne Vellipoyindi.
The movie was exquisitely shot in the locales of Rajahmundry, Warangal and Vizag. Upcoming producer Poorna Naidu who produced movies like Visakha express, Second Hand finds it a blessing to make a movie with Vamsy. The songs like shubhame sumame, tholichupuke padipoya and others garnered elevated appreciation with the duo Vamsy and Chakri repeating the charm. Ajmal of Rangam fame is the lead actor for this movie while showcasing his penchant towards large eyed beauties, Vamsy picks Nikitha Narayan of It's my love story this time.
This is especially close to Vamsy's heart as it is his 25th venture as a director. A director who has made movies over 3 decades to the amusement of his fans leaves no stone unturned to bring a movie that will remind the golden era we once lived in.
For trade inquires please reach out to: +91-99598-88799.