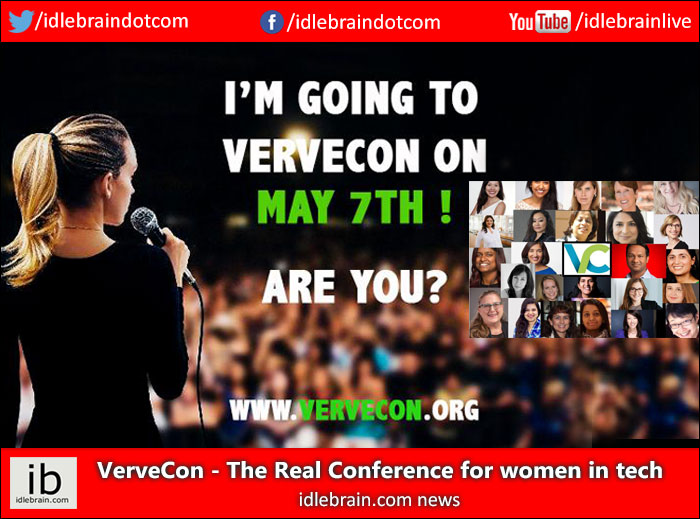 27 March 2019
Hyderabad
If you are a woman in tech, you don't want to miss VerveCon 2019 Tech Conference, May 7th, 2019 at the Santa Clara Convention Center, California.

Yes, there are a lot of women's conferences. But there are very few that offer real technical talks by women, while also recognizing the challenges and needs of women technologists in today's companies. VerveCon 2018 was a huge success with 750+ women attending and you must read this special article on VerveCon
You don't want to miss…
1. Hearing women engineers covering the spectrum of emerging technologies catering all levels of careers – Conversational AI, NLP, Tensorflow, BigData, Block chain tech talks with live demos and hands on knowledge for you to try on your own post the conference.(www.vervecon.org/agenda)
2. BigData and AWS training workshops
3. Interactive career talks that you will not find online.
4. Breakout sessions to interact with industry mentors. On spot suggestions and career advices.
5. Attending the only conference in Bay Area offering technical tracks and career talks on same stage.
6. Standing with women industry leaders as they discuss the continuing struggles faced by women in tech, and their suggestions about what we can all do to drive positive change
7. Learning how to position and project yourself to be in tapped for leadership in your organization

REGISTER TODAY !
http://vervecon.org/register/
Invest in your career. You owe it to yourself! Register today!
Use this special promo code: vc-idlebrain to get a super discount celebrating march as woman's international month.
How VerveCon was born!
We are a team of women engineers NOT trying to change the world, but trying to redefine women's journey in technology.We took it upon ourselves to try to understand why so few women participate in technical conferences. What we found out was shocking. Women rely on reading technical journals to update themselves about the latest technologies three times more often than attending a technical conference. Their reasons?
1. They felt unwelcomed at technical conference.
• We heard terrible stories about uncomfortable experiences at sponsor booths and after parties.

2. They didn't feel that they had the flexibility to travel.
.•Yes, there are some amazing tech conferences for women, but the aren't in the heart of Silicon Valley, where so many tech women are!
We want to change this with VerveCon, the "Convention for enthusiastic women in technology" in BayArea. Come to VerveCon and meet the leader in you!
See you on May 7th, 2019!
VerveCon Team
[email protected]