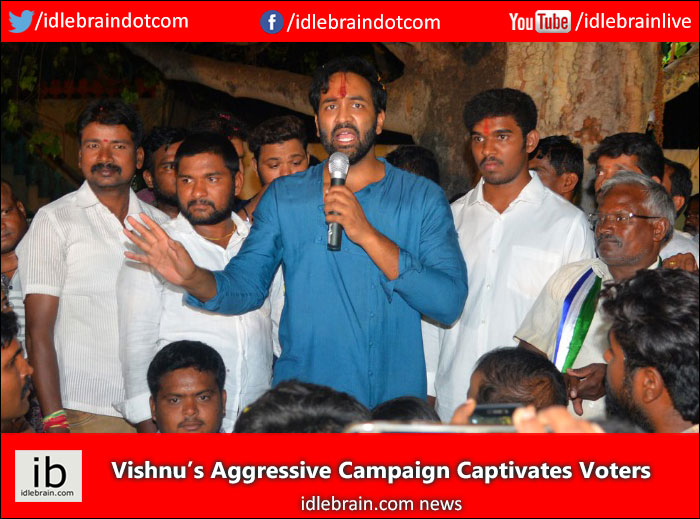 7 April 2019
Hyderabad
Actor, Educationist, Serial Entrepreneur Vishnu Manchu hit his campaign trail on a blistering note in Tirupati and the neighboring Chandragiri village with temperatures touching 40°C. The actor drew mammoth crowds when the news of his name spread like wild fire in the region.
People in the region stood approving the star's ability to highlight the issues concerning people in the region skillfully. It was a hot topic of debate among Manchu's supporters who turned out for his rally in large numbers on a sweltering day in Chandragiri, the bastion of Educationist, Philanthropist and Legendary Dr. Mohan Babu and his son Manchu Vishnu.
In a fiery speech, Vishnu quickly brought to the attention his narrative, and concerns in the region, as a citizen and being amongst them, despite having no experience in politics. During his aggressive road shows, he urged voters to vote for YSRCP, which has strong ideology and has greatest concern for issues that matter to people in the region.
During the previous elections the ruling party scored thumping victory in Chandragiri because of Dr. Mohan Babu power packed election rallies in the region which boasts 290,000 voters base.
After his successful election rally, Vishnu Manchu spent time interacting with party workers and listened to each of their apprehensions. He urged one and all to unite for the sake of his party's victory. The actor sounded confident his party's candidature in Chandragiri will romp home with a thundering victory.
As the elections are drawing near and the rallies raising to high pitch, Dr. Mohan Babu and his son Vishnu Manchu are fired up, campaigning from one village to another urging voters to franchise their votes wisely.