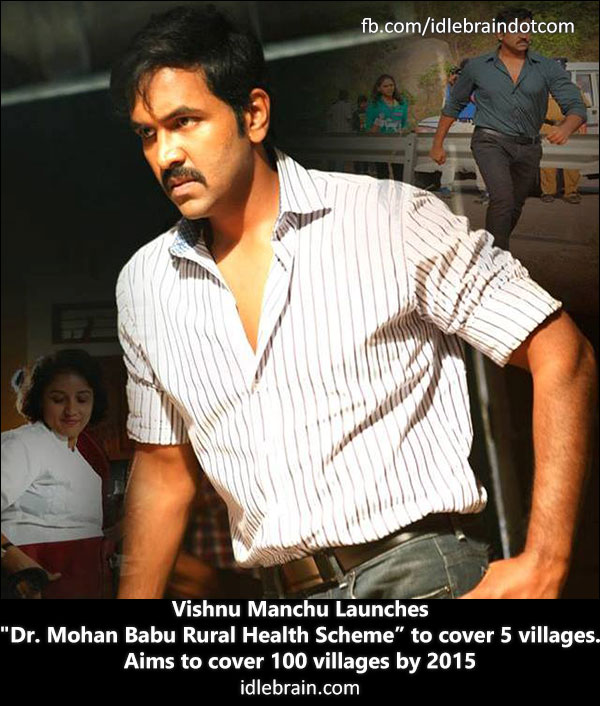 8 September 2014
Hyderabad
Actor Vishnu Manchu today announced "Dr.Mohan Babu Rural Health Scheme" in the Tirupati region. To begin with his teams consisting of students from Sree Vidyanikethan Educational Trust social responsibility team ' Army Green' have begun the scheme in 5 villages in the region. Soon all the villages in Chandragiri Mandal will be covered and this is going to be a yearly routine henceforth.
The aim of this Rural Health Scheme is to reduce child mortality, disease burden in all age group and to improve maternal health. The village adoption scheme will also enhance access to health services that is scarce today in these backward regions.
Under this rural scheme, villagers from the adopted villages will be provided medical benefit like various medical tests and medicines worth 4 to 5 lakh per individual for free.
The Rural Health Scheme's main intend is to give access to thousands of villagers the basic primary medical benefits.
An important aspect of the services is to record the medical diagnosis and treatment history of the beneficiaries that will help the Doctors provide better care in future as well. So the data of thousands of villagers will be stored and can be retrieved by them whenever they want and also every year they can compare their health statistics. This is something even corporate hospitals do not do.
"Our vision is good health and healthy life for all" Vishnu said. We want them to lead a healthy life so that they can focus on their livelihood.
In fact health, sanitation and hygiene are vital for economic productivity and these are areas which need attention right now in a rural setting. Vishnu has earlier adopted 10 villages and is constructing toilets in all the high schools there for the children.
This health scheme has been Vishnu's pet project and the software created to hold the data of the villagers has been going on for quite some time.
It's a known fact that Dr. Mohan Babu has always been involved in humanitarian and charitable work across many villages in the area of health, sanitation, water and basic infrastructure development.