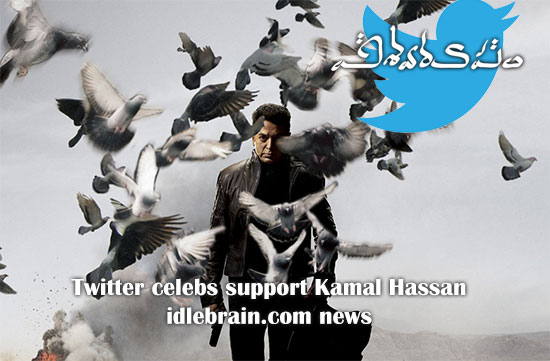 Indian film fraternity reacted strongly in twitter over the ban on Vishwaroopam by Tamilnadu's Government. The criticism regarding ban got stronger after being hinted that there might a political conspiracy behind the ban. Here are few of several tweets by celebrities supporting Kamal Hassan and Vishwaroopam -
SS Rajamouli:
Usually all commercial films have black and white characters and complex characters are for parallel films. Vishwaroopam is the first Pakka Commercial film that I know which has complex characters which was refreshin 2watch.Kamal's performance as the dance master is extrordinary Makeup and spl efx are top notch. i would have preffered a little less gore, but that is personal taste.And tamilnadu govt banning the film is quite shocking. Govt advocate stating that there will be wide spread violence is the home of the year. There's nothing in the film that Hurts the sentiments of the Muslims. Hope the good sense prevails. And wish the producers somehow recover the money that has been lost.
Initially i was outraged along with the film fraternity at the atrocity of banning #vishwaroobam stating "it hurts the sentiments of the Muslims."
Which part hurts the Muslims? Showing talibans in bad light??
Now is the govt implying that the Indian Muslims support talibans? Isn't that insulting the Muslims of this country??
And what happened to the freedom expression. Constitution going down the drain?
what happened to the supreme court ruling that no govt can stop any film's release stating it will cause law and order problem? Infact the ruling says it is the DUTY of the govt to protect the intrests of the producer in case of law and order situation arises.
Are govts above these laws?
The greatness of 5000 year old bharatha varsha lies in respecting and honouring artists across caste creed and religion.
MF Hussain, Tasleema Nasreen and now Kamal haasan. What are we doing?? This certainly is NOT our culture.
Initially i thought this is just vote bank politics. Now it seems to be more a personal vendetta.
Now, What do I feel? Sadness....and more than that fear..
Nani:
Vishwaroopam ban chesinandhuku kamal hassan fan Ayina naatho Saha Chala mandhi manobhavalu dhabbathinnayi
Memu roadlekki raalu visurtham ... Ethesthara ban ?
TN Govt has hurt my religious sentiments becoz .. I'm an actor, acting is my religion and Kamal Hassan is my God . #Vishwaroopam
Salman Khan
Hope each n every fan of his supports him like I am doing n want all my fan to fully support him . Bhool gaye kya ek doojeh ke liyeh .
Then go stand out side the cinema hall n insist on seing the film, its a movie dude , entertainment, wat law n order problem on a movie?
Go thr insist that u wanna c it , thr is a supreme court judgment after the film is censored no body can stop it.
Ek toh the industry does not get any support frm any 1 but the fans bus tax pe tax. Now they stopping the releases of our movies. Wah .
The south actors shld go to the cinema halls whr film was to b released in his support n insist that they wanna c the film
Nagarjuna: Kamal Hassan can never disrupt communal harmony (TV interview)
Prakash Raj:
Kamal hasan s statment amplify s the obvious threat to every secular minds existence. Silence around proves "FEAR is growing into a disease"
Time to stay calm and strong . Fight for justice will continue. All u there keep the spirit intact stand together by this man kamal hassan
Actors and directors from the film fraternity have come to stand by vishwaroopam.The movement is snowballing. Lets wait together for justice
Vishnu Manchu: Saw Visawaroopam. Sleek action movie with a lot of story depth into terrorism. If anyone shud b offended it shud b the Taliban in Afganistan
Lakshmi Manchu: Tears in my eyes seeing kamal sirs speech. Heartbreaking angry frustrated. This is beyond ridiculous. Can we 1st concentrate on clean water?
Siddharth:
Vishwaroopam screenings cancelled before starting & even stopped mid show all over TN. What a sad day. What a horrible week. #TalibanTN
Kamal Haasan: I need a secular place to settle. If there's no secular place in India I would go overseas. My talent would remain with me.
KamalHaasan: Don't even know if I'll even be able to hold another press meet in this house if the court rules against me today.
Kamal Haasan: I only want to stay in a secular state, that doesn't mean I will not make Tamil films. I am not angry with my people.
Deva Katta: just saw sir kamal haasan's press meet...I'm speechless. if there is a DTH broadcast of Viswaroopam, it's an all Indian duty to pay and watch the film as a protest against this anarchy
Arjun Rampal:
It is just pathetic to make any artist experience what Kamal Haasan is experiencing right now. What kind of viciousness is this?
Yuvan Shankar Raja:
Just went n met the legend,kamal sir...i feel sad to see him like this. But we are with you kamal sir.
Shruti Hassan:
My father has asked me to refrain From interviews and comments due to the volatile situation and the fact that this is a situation that is sub judice . Having said that my support and respect for my father and the film he has made is more than hundred percent. On behalf of the family Thankyou for all the support , awaiting justice
Aravind Swami
I cant control/decide on what other people think or do. I wanted to express my support to Kamal Sir, i met him and did just that.
Priyamani
I support my all time fav idol!!!!I support u kamal sir!!!!
Akhil Akkineni: Just saw kamal hassan's pressmeet on viswaroopam release. I'm speechless,All I'llsay is he didn't deserve this. What a man, what an actor !!
Anupam Kher
As a former Censor Board Chief I strongly CONDEMN Banning of Kamal Hassan's #Vishwaroopam. We as People of India are Shamelessly SPINELESS.
We 'The People' are responsible for our SORRY State. We are used to Slavery & taking nonsense from all. Mughals, Britishers & now our own.
Kamal Hassan travelled with me to LA and kept talking passionately about exciting times in cinema in India. This is what we do to him.
Nikhil Advani
So should we just consider the Censor Board as a defunct organisation and send all films to the Supreme Court? #vishwaroopam
Shekar Kapur
I stand up for #kamalhassan right 2 show d world #vishwaroopam n let d people decide, especially after Censor Board has passed the film.You?
Vishwaroopam sends terrible message 2 filmmakers. Dont touch anything that could be sensitive politically culturally socially or on religion
Ken Ghosh
Didnt see any water cannons being used on those who protested against Vishwaroopam or are those only for students and the middle class
Reema Katgi: Shutting down creative enterprise in the name of religion is the sign of an intolerant, unhealthy, backward society # Vishwaroopam
Jiiva: Why isn't nadigar sangam reacting to the Vishwaroopam issue!??? Strange very strange