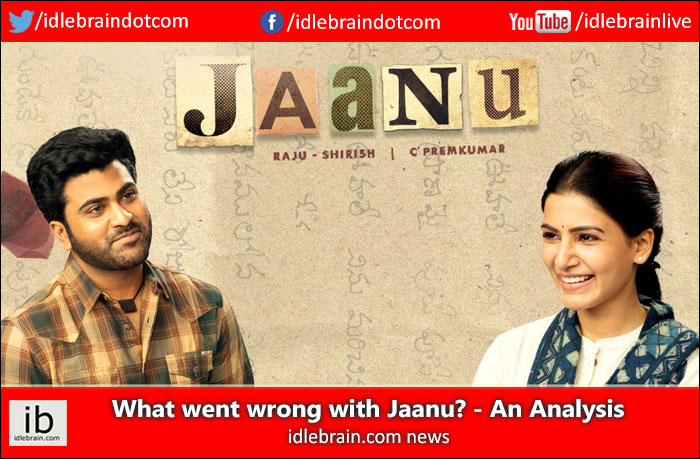 18 February 2020
Hyderabad
The Tamil film '96 was released in October 2018. Starring Vijay Sethupathi and Trisha, this film went onto become a classic and won appreciation across the audience irrespective of the language spoken. It was remade as '99 in Kannada in 2019. They changed the year from 96 to 99 in the Kannada version. The Telugu version released in 2020. And the year of the student's batch is changed from 96 to 2002.
95% of the film is a frame to frame recreation. All the dialogues are literally translated into Telugu (example: the poem written by the hero, which is narrated to the heroine in the 2nd half). What is the point in remaking frame/frame and dialogue/dialogue when the original is accessible on OTT? If you pay Rs 25/- you can watch '96 on YouTube. Otherwise, it's available on the OTT platform Sun Nxt. For Indian users with Jio connection, Sun Nxt can be freely accessed. Why would Telugu viewers watch a film which is a frame-to-frame remake? Just because Telugu actors are cast and you can listen to dialogues in Telugu?
For the people who haven't watched '96, Jaanu gives a refreshing feeling. However, if you compare with the original, Jaanu definitely doesn't match up because it's a remake by a director who clearly doesn't understand Telugu sensibilities. Remaking is an art. One should take the soul and reconstruct it. The second half mostly happens between two characters. In the first half, there is so much scope to improvise and bring in Telugu nativity. A comedy actor like Vennela Kishore who is known to improvise for his character is wasted in uttering dubbed dialogues.
The translators of this film are so true to the original that they just replicated everything without looking at the timeline. For example, Ram wanted Jaanu to sing Yamuna Thatilo song (it's a huge thread in the film for which pay off comes in the final part of the second half). Dalapathi was released in 1991 and it makes sense that a Tamil kid in 1996 is obsessed with that song. Why would a Telugu kid in 2002 be obsessed with that song? They should have changed that for sure.
The obsession to stick to the original is so desperate that when Ram and Jaanu venture out to spend some personal time in the city, they show a flight taking off from a close distance and it's shown from a moving metro train. It makes sense in Tamil because we have a metro connection to the airport in Chennai. There is no metro connection for Hyderabad!
Jaanu is the kind of film that gets appreciated by A center audiences and most of the target audiences are net-savvy. The moment they came to know that it's a frame to frame remake, they have abandoned the film.
Casting good actors like Sharwanand and Samantha didn't help the film to draw crowds to theaters as '96 film made such a huge impression on net-savvy Telugu people. They wanted it to be made differently by having a soul intact.
The box office failure of Jaanu casts a shadow on remakes that are being made at present. All the remakes that are being made in Telugu have the originals on OTT. Here are the Telugu films which are being remade in Telugu -
Pink (with Pawan Kalyan by Dil Raju who is also the producer of Jaanu): Pink is already available on Netflix and mostly watched by all net-savvy Telugu people as it's a hit film and deals with an issue that was never dealt with before.
Red: Ram's next film Red is an official remake of Tamil film Thadam.

Naarappa: Venkatesh is remaking a cult hit Asuran from Tamil to Telugu in the direction of Sreekanth Addala. Venkatesh has a thing for Tamil remakes and most of them are remade without much modifications. We need to wait and see if there are any nativity changes made. Asuran is available on Amazon Prime Video.
UmaMaheswaraUgraRoopasya: This film is a remake of a Malayalam blockbuster titled Maheshinte Prathikaaram. It has a very sinsible and unique story line. This film was available on Netflix India for a while. But not anymore!
Mass films have always been made with changes and worked in the past. Harish Shankar has mastered the craft of remaking in Telugu by adding the necessary changes. Gabbar Singh is a big example. Gaddalakonda Ganesh is another example of changing a class film (Jigarthanda) in Tamil into a complete mass film in Telugu.
We need to wait and see how the future remakes work in Telugu. Here is a lesson from Jaanu to all the producers: Don't remake a film frame to frame if it's already available on OTT (also if its a classic!).