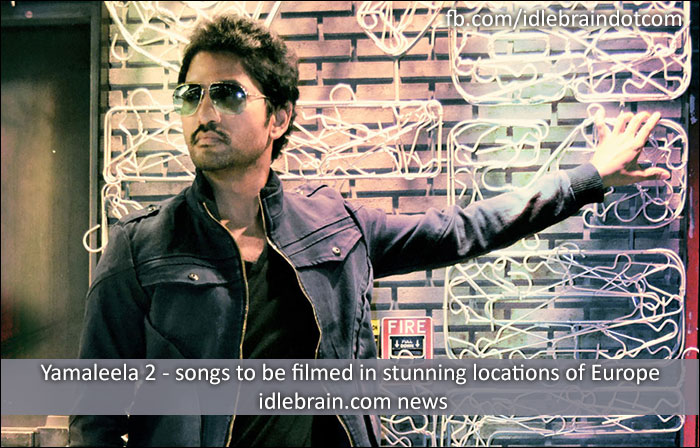 19 July 2014
Hyderabad
Dr. K. V. Satish's most awaited movie "Yamaleela 2" in S. V. Krishna Reddy's direction is in post-production works. S. V. Krishna Reddy said that they have completed filming of this movie in India. Only, two songs are left over as a part of shooting. The remaining songs will be filmed in the most stunning locations of European countries like Mortiz and Jungfraujoch in Switzerland, Brotnja in Slovania and Milan, Trento and Dolomites in Italy. The whole Yamaleela 2 unit is moving to Europe within few days for filming the songs..
Yamaleela 2 is being produced under Krishvi Films banner. Exceptional director, S. V. Krishna Reddy is introducing Dr. K. V. Satish in the main lead role. Dialogue king - Mohan Babu and the face of versatile comedy - Brahmanandam will be seen playing vital roles in this socio-fantasy movie. Attention-grabbing fact is that, stunning actresses Sada and Nisha Kothari have been roped to perform for many special songs. Gorgeous South African model – Nikitha Diah Nicolas has been assigned to play the female lead role in the movie.
The technical crews of Yamaleela 2 are very busy and are working round the clock as the film involves high-quality graphic scenes. It is considered as one of the high-budget movies in the Telugu movie industry as it involves a lot of visual effects. The ace director has revealed that a major percentage of the film's finances are going into funding its visuals. Yamaleela 2 is treasured up with lot of special effects and graphics. The music of this flick is extremely subjective by nature and most of the people will jump by listening to the songs. All songs have been picturized and choreographed very well.
Even though the title of the flick suggests that the story is based on the cosmic acts of lord Yama, the story is a bit unpredictable. But, the director has used the VFX and high-end graphic elements and packaged the film with loads of fun and entertainment. It is a classic film with too many great moments to count and can become one of the greatest action movies in Tollywood. Dr. K. V. Satish has performed some of the jaw dropping fights with sheer brilliance. Audience can anticipate for more than 2 hrs of hilarious comedy as Padma Shri - Brahmanandam appears in most of the scenes.
The unparalleled family entertainer, Yamaleela 2 will reach the audience as soon as possible. This film is anticipated to be one of the box office hits as S. V. Krishna Reddy has given 35 hit films out of 40 films. It might be a typical Telugu mythological-comedy movie, but is full paisa-vasool! It takes months and in some cases years for Tollywood to deliver an entertaining flick like this one. So, it's time for the audience to be ready with their whistle for an absolute family entertainment package.