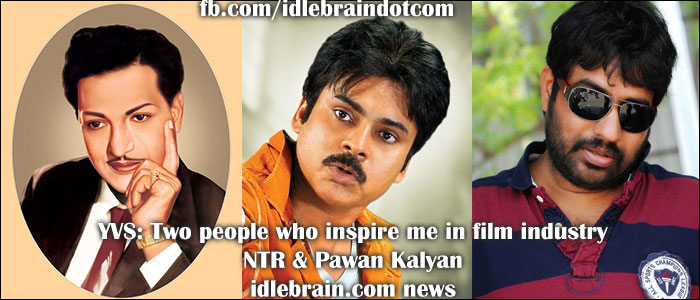 28 May 2013
Hyderabad
It's an open secret that I am a hardcore fan of legend NTR and I got infatuated by films due to NTR. I joined film industry and became film director only because of the movie passion injected in me by watching NTR films. It was Hari Krishna who introduced me to NTR. I went to meet NTR to seek his blessings when I got my first opportunity as a film director. NTR was so enthusiastic and open-minded with fans that he told me "Prepare a script for me brother. I want to act in your direction". Such encouraging words from him gave me immense self-confidence. With the blessings on NTR, I have made my career as a director.
There another person who gave boost to my morale as a film director and as a human being. That is Pawan Kalyan. Pawan Kalyan has asked me to launch his nephew Sai Dharam Tej as hero. When I was working on the script of Rey film, one of my films got released and obtained a unfavorable talk. Since my career was nose-diving with unsuccessful films, I sent a message to Pawan Kalyan that he can drop me as a director and prefer somebody else for Sai Dharam Tej's launch film. The reply I got from him gave me lot strength and taught me an important lesson. It stands as an example for the Pawanism (Pawan Tatvam) all his fans (including me) proudly boast off!!
His message goes like this "Dear Chowdary, I am Kalyan, I saw your message about your concern, It is not success that matters. it is the commitment to the cause you believe in that really matters. I go by one's character, I believe in your commitment and your confidence towards life and always I will be there and I will stand by you."
I am taking this occasion to tell you all about two people (NTR & Pawan Kalyan) who inspired me to pursue my career with lot of vigor and uncompromising attitude.