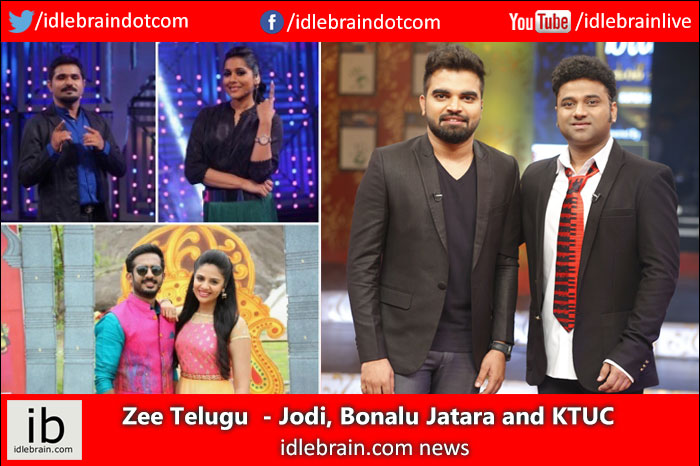 29 July 2016
Hyderabad
With the onset of a new season, Zee Telugu moves up its entertainment quotient a notch higher than before with new show launch, entertaining events and showcasing most celebrated artists on the shows to the audience.
Showcasing the grandeur of cultural heritage of the state of Telangana, Zee Telugu brings Bonalu Celebrations to audience on their screens with its artists at 2 PM on 31st July 2016. The festival is celebrated with Zee Telugu artists' family. The event was held at Warangal with over 1,00,000 crowd. Audience can expect dance performances, Bonalu Ghatam Procession, Potharaju acts and several other entertaining elements that the audience will definitely enjoy. Following this event, the evening gets more entertaining with a special guest on the sets of KTUC. While Sundays are always Super with Anchor Pradeep Machiraju on Konchem Touch lo Unte Chepta, this week's episode of the show has an extremely special celebrity – Rockstar Devi Sri Prasad. This week's episode is the most awaited one by the audience. With laughter, emotions and fun games, Konchem Touch lo Unte Chepta will enthrall its audience again this week, Sunday 31st July 2016 at 9:15 PM.
As a new show, Jodi – Evaru Asalaina Khiladi, has been conceptualized by Zee Telugu, which is a Celebrity Game Show where Celebrity Couples come together to participate in three rounds of intensive games to emerge as a winner. The anchors for the show are Rashmi and Chanti. This show is expected to deliver maximum entertainment to the audience considering that there are interesting games that will keep the audience at the edge of their seat.
The show Jodi – Evaru Asalaina Khiladi will replace Denikaina Ready on Zee Telugu. Catch the first episode of the show this Saturday, 30th July 2016 at 9:30 PM. Also, do not miss Zee Telugu Bonalu Jatara and KTUC Super Sundays with DSP on 31st July at 2 PM and 9:15 PM respectively.