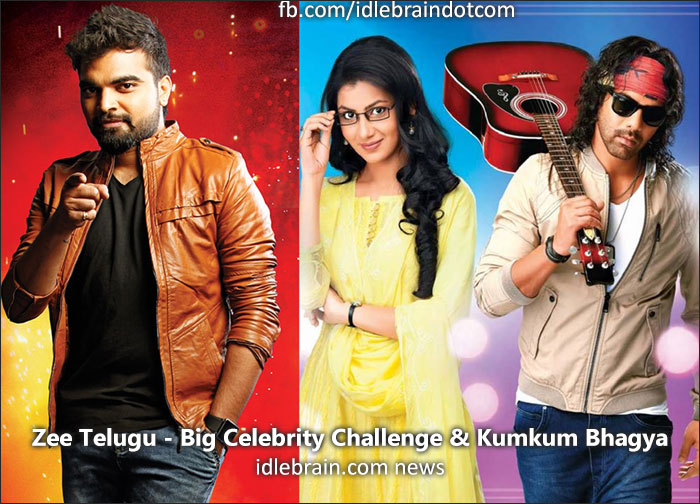 27 August 2015
Hyderabad
Zee Telugu has been a strong and stable contender in Telugu GEC segment. It has been in the news for being a part of major success events and shows. With a conscious effort to up its motto of quality entertainment to the audience, the channel will be launching fiction and non-fiction shows in the coming week. Big Celebrity Challenge and Kumkum Bhagya are two such shows which are ready to go on-screen this 29th Aug & 31st Aug respectively.
Big Celebrity Challenge is a 'first-of-its-kind' reality show in the regional entertainment segment where Celebrities bet on a common man's talent. Talent, which is a natural aptitude or skill possessed by these participants, will put the viewers in a state of awe. The episodes will have celebrities like Soneeya, Swathi, Naveen Chandra, lead protagonists from Zee Telugu's serials in the coming weeks. Some of the acts to look forward to includes Fastest Human Calculator, Mind Bending Fire Tricks where a man sets himself ablaze without getting burnt.
Anchor Pradeep Machiraju will host this show. Get ready to be entertained, starting this Saturday – 29th Aug 2015 at 8:30 PM.
Kumkum Bhagya, on the other hand is a fiction show which is a contemporary love story that is sure to touch hearts of audience. It has a wistful storyline and characters that people can identify themselves with. Kumkum Bhagya will be replacing Jodha Akbar show on Zee Telugu. Watch the story of Pragya and Bulbul who wish to get married to the man of their dreams. However, fate plays its role in getting the elder sister – Pragya married to the man who is opposite to her by nature and also, who is admired by Bulbul. How these relationships are strengthened in such situations forms the crux.
This show is already aired on Zee TV in Hindi and has won a lot of hearts. With its success across India, Kumkum Bhagya is sure to connect well with Telugu Audience.
Watch Kumkum Bhagya on Zee Telugu at 5 PM starting 31st Aug 2015.