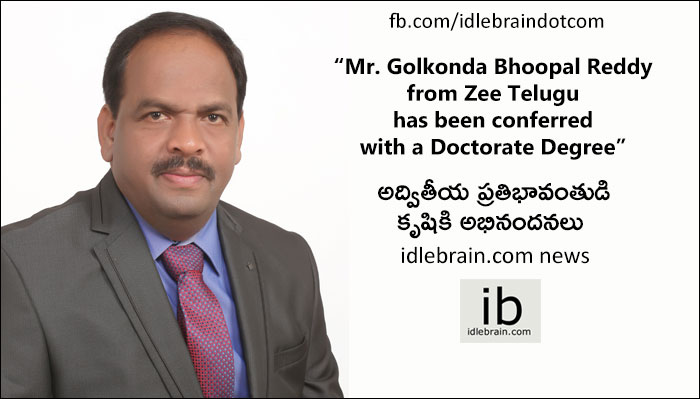 9 June 2016
Hyderabad
A Ph.D is not an easy task at all. It takes a lot of commitment and sacrifice to achieve what is required.
On this note, we would like to congratulate Mr. Golkonda Bhoopal Reddy on an outstanding achievement of being conferred with a Doctorate degree by Osmania University. His thesis guide during the period of study i.e. 2011 – 2016 is Dr. Smitha Sambrani, Asst. Professor at the Department of Business Management at Osmania University.
Mr. Bhoopal's area of specialization is something unique. His thesis is titled – "A study on competency mapping in Entertainment TV channels with special reference to Zee South Cluster". This title has been chosen with a vision to specialize in media management that will help build Excellency in the organization.
Mr. Bhoopal is currently designated as 'Head of Production & Admin' with Zee Telugu. Prior to working with the channel, he has also worked with Indian Air Force
Mr. Bhoopal's extensive study on the topic, perseverance and dedication has enabled him to embark on this successful chapter of life. We congratulate him and convey our heartfelt wishes.