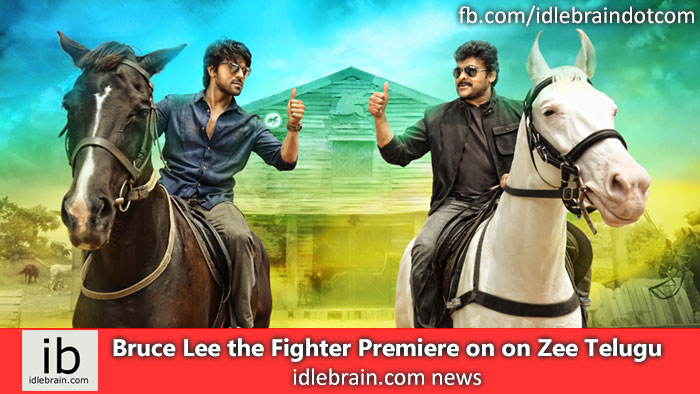 10 February 2016
Hyderabad
One of the biggest and most awaited movies of 2015 was that of Mega Family starrer – 'Bruce Lee the Fighter'. The movie starring Megastar Chiranjeevi, Ram Charan Tej, Rakul Preet and Kriti Kharbanda. The movie proves to be a complete family entertainer touching upon a very beautiful aspect of the love between a brother and sister which is played by Kriti Kharbanda. While Rakul Preet plays as Ram Charan's love interest, the movie unfolds into various twist and turns that has a considerable amount of excellently executed action scenes.
Being Megastar Chiranjeevi's come back movie, his appearance and performance makes the audience stay on the edge of their seat. That is how exciting it is.
While the movie did a good job on big screens, it is all set to premiere on Zee Telugu this Sunday, 14th Feb 2016 at 5:30 PM. You can now watch the movie and also participate in the Dubsmash contest run on Zee Telugu Facebook page and Twitter handle to win exciting prizes.
A special mention to S.Thaman's music direction where he has laid foot tapping tunes like Lay Chalo and Kung Fu Kumari . The movie has picturesque backdrops of locations abroad which is a visual treat to the eyes.
Karthi (Ram Charan) and his sister (Kriti Kharbanda) are two bright students. But their father (Rao Ramesh) with his income can't afford good studies for both of them. While Kriti Kharbanda wants to become an IAS officer, Ram Charan underperforms so that his sister can get a better education. After they grow up, Ram Charan sister faces a problem when she gives final exam for IAS. Rest of the story is all about how Ram Charan solves the problem.
Zee Telugu is a General Entertainment Channel that focus on providing quality entertainment to its viewers reaching about 60 million audience on a weekly basis.
Don't miss to watch 'Bruce Lee the Fighter' this Sunday, 14th Feb 2016 at 5:30 PM on Zee Telugu.S