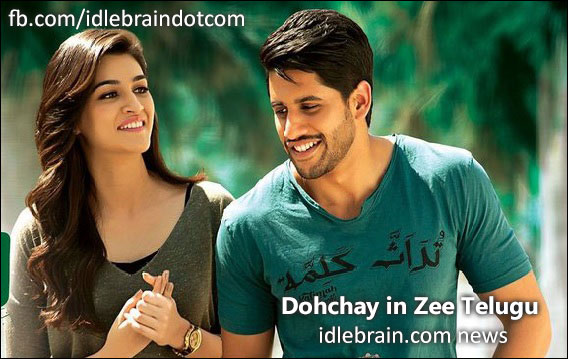 23 October 2015
Hyderabad
Naga Chaitanya and Kriti Sanon have sizzled on screen in their latest release 'Dohchay'. The movie being a splendid entertainer has surely made the audience appreciate and groove on the story line, screen play and music.
The story is about Chandu (Naga Chaitanya ), a Conman who falls in love with Meera (Kriti Sanon). The story unfolds into circumstances where they plan bank thefts due to the circumstances they are struck in. Posani Krishna Murali (Manikyam) is a big thief whose expertise lies in bank heists. They all get connected in the'Run and Chase' game to execute the 'BIG PLAN'
Zee Telugu has completed ten successful years in the Telugu General Entertainment Channel Segment which is coinciding with 'Dohchay' - Naga Chaitanya's tenth movie.
Enjoy this Sunday, 25th Oct 2015 watching 'Dohchay' at 6 PM.