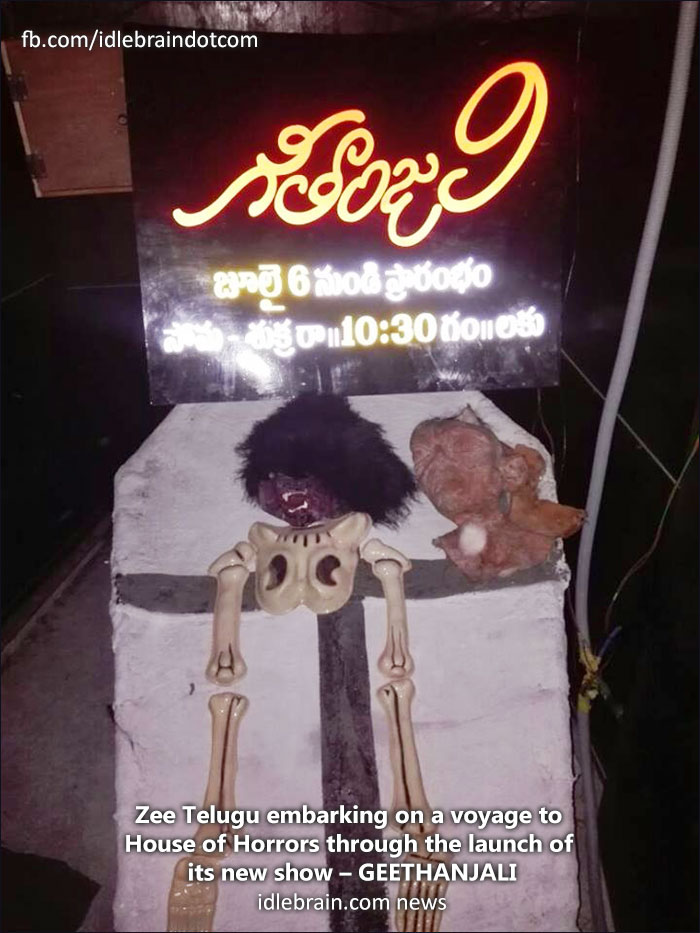 30 June 2015
Hyderabad
Come July 6th, Zee Telugu will be launching a new show – Geethanjali which is a Horror / Thriller which is a story of Twin Sisters. The elder twin, Geetha dominates Anjali- the younger one. Story continues on how both of them fall in love with the same man, Arjun. Somehow, Geetha gets to know that Anjali and Arjun are secretly married .A heartbroken Geetha dies while Arjun accepts Anjali as his Lady Love.  Further, the story unfolds into Geetha coming back as a ghost to haunt Anjali and Arjun to create differences between them.
How will Anjali and Arjun stay strong together  to fight Geetha's spirit? Will Arjun protect his love from evil? How will the couple overcome problems together? Watch Geenthanjali, starting 6th July 2015 from Monday till Friday at 10:30 PM.
Zee Telugu being a strong contender in Telugu General Entertainment Channel Segment,  as a part of marketing campaign has already tied-up with major 'House of Horrors' across AP & Telangana since a week now. Viewers can visit their nearest mall where there are 'House of Horrors' or 'Scary House' and participate in the contest by sharing a horror story / experience to win passes to enter the Scary House. The experience inside this Scary House is definitely an unique experience. "We have received great response and participation from all age groups for the contest announced. People come out of the ' House of Horror' with a scared yet funny expression on the face" says one of the anchor hosting this contest at 'House of Horrors'.
Come and be a part of it. Visit Cineplanet in Kompally at Hyderabad, Geetha Multiplex in Bhimavaram, Jyothi Mall in Kurnool, LEPL in Vijayawada and CMR Mall in Vishakapatnam to experience Zee Telugu's 'Geethanjali – House of Horror' .