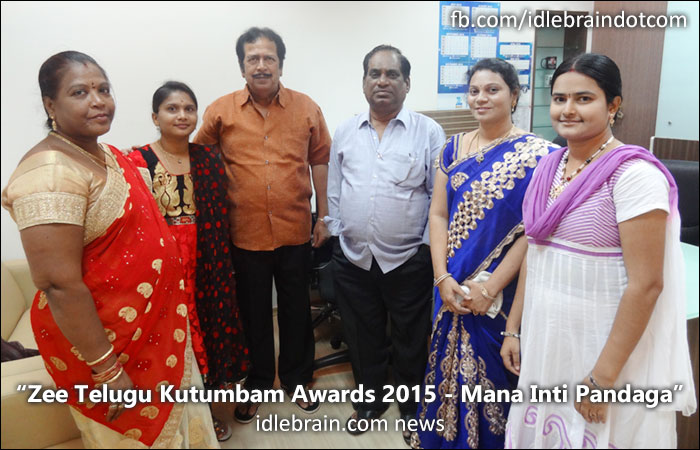 29 October 2015
Hyderabad
'Vasudaiyva Kutumbam' which means the world is our family has been the basis on which Zee Telugu works. Zee Kutumbam Awards is one such occasion that celebrates precious talents from Zee Telugu Small Screen fraternity. The celebrations were held on a big scale early this month and the occasion witnessed Zee Kutumbam making the most of the event.
The event is first of its kind 'Rishtey Awards' where the winners of different categories of awards were felicitated. The event was hosted by Anchors – Pradeep, Shyamala and Tejaswi. There were sizzling on-stage performances by Actress Kriti Kharbanda, Tejaswi Madivada, Rupa from 'Geethanjali' serial and many more. It was a full house with each and every one from Zee Telugu family present in the event.
The star studded evening got us closer to these celebrities' lives and gave us a feel of how nice it is to be a part of a warm family like Zee.
Zee Telugu, as a part of spreading out its wings into the rural regions, a canter went around villages and across 20+ towns in all districts of AP/ Telangana/ Rayalaseema. The canter attracted many viewers from this region and gave information about Zee Kutumbam Awards 2015. The audience also voted for their favorite artist.
Amongst hundreds of prospective viewer judges who voted for their favorite artist, five of them were invited to Zee Telugu office to interact with the jury i.e. Geethanjali, Parchuri Venkateshwara Rao, Giri Babu and Relangi Narasimha Rao. After having spent an entire day discussing the different characters in Zee Telugu's serials and the relationship shared by each of them with their 'reel-life' family members, the judges arrived at a set of winners for certain award categories. The other set of award categories is decided by the votes received online & through SMS by the audience.
Other popular personalities present at the event were Actor Sushant, Parachuri Brothers, Jeevitha, Director Bhimaneni Srinivas Rao, Raj Tarun, Mimicry Artist Shiva Reddy to name a few. Zee Telugu has always been committed to providing quality entertainment and celebrating occasion that identifies talents.
You can catch the highlights of the event this Sunday, 1st Nov 2015 on Zee Telugu at 5:30 PM.