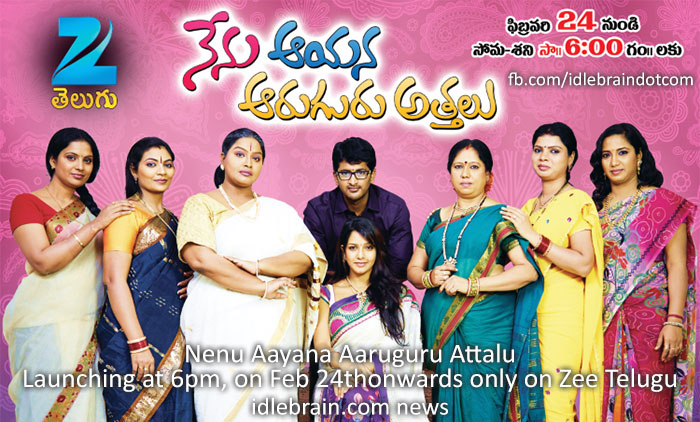 22 February 2014
Hyderabad
Zee Telugu is all set to launch its newest offering with a brand new fiction show 'Neenu Aayana Aaruguru Atthalu'and the first ever serial produced by Suma Rajeev Creations.
Nenu Aayana Aruguru Attalu, is a familial story wherein Anasuya, through an unexpected wedding, steps into a home having Six Mother-in-laws. The hero and in-laws are well organized and Anasuyais a spirited and quirky girl.
The story revolves around these two protagonists - Anasuya&Chakri, with opposite opinions meet and decides to marry due to compulsive circumstances.
How this girl gets along with six mother-in-laws runs the future course is the story.
Premiering on February 24th, the daily serial will be telecasted from Monday to Saturday @ 6 pm only on Zee Telugu.

About Zee Telugu
Sarikotha Velugu… Zee Telugu!
As the caption suggests 'SarikottaVelugu', a Telugu phrase that conveys the meaning 'New Light'. Zee Telugu has always stood by it. Zee Telugu, the channel created with a vision to provide wholesome entertainment to the entire family, has become a very popular channel amongst all age groups today. The programs range from devotional, music, dance, comedy, to blockbuster movies and reality shows.
Zee Telugu is the first southern regional channel from Zee bouquet. In just few years of its inception it soared high on popularity charts by breaking the barriers of a stereo typical Fiction Television. It gave a new path with its creative ideas, constant innovation and a feel for popular taste thereby bringing radical changes in viewership patterns. Being a strong contender for No.2 in Telugu GEC, Zee is striving to consolidate its position. There are over 15 million patrons to Zee Telugu across the globe.