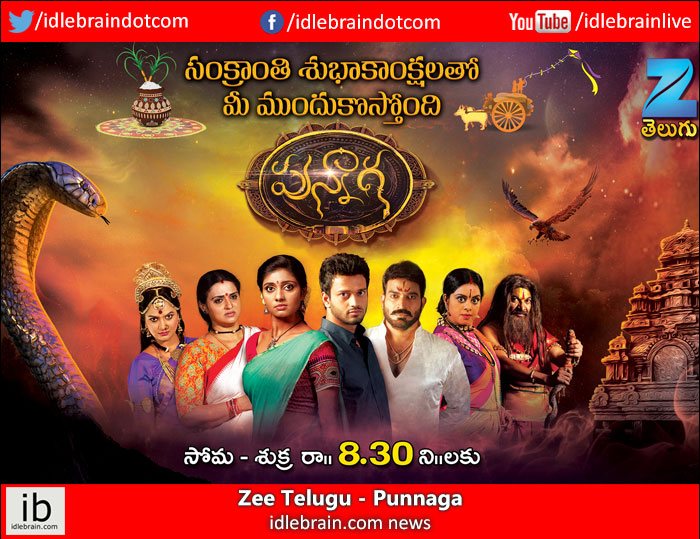 11 January 2017
Hyderabad
The Naga and the Garuda families have been rivals since the beginning of time. Punnaga majorly banks on this clash and is about how two individuals belonging to these families come together.
A family that ardently worships Garuda Dev as their Kula Daivam is blessed with an heir Anirudh. The family is headed by Dhanunjaya Varma who has immense hatred for the Nagas/snakes. On the other side, Mahadevi, who is a great Naga devotee is blessed with a daughter and names her 'Punnaga'. While Dhanunjaya Varma and his sister Bhadravathi try to capture the Nagmani, Mahadevi tries to save her Goddess Nagamma and loses her life.
Anirudh's horoscope mentions that he will have association with the rival family. Whether this will lead to his bonding with Punnaga and whether his life will have an impact with Punnaga's presence will form the crux of the story. The story will also focus a lot on how and whether Dhanunjaya Varma and Bhadravati will get hold of the Naga Nidhi and how they will continuously collide with Naga Devatha.
Satrring Anjana, AKarsh Byramudi, Pavithra Lokesh, Bharani, Jyothi Reddy and Dubbing Janaki in key roles, 'Punnaga' is launching on 16th of Jan, 2017 and will be telecast every Monday to Friday at 8PM on #ZeeTelugu.