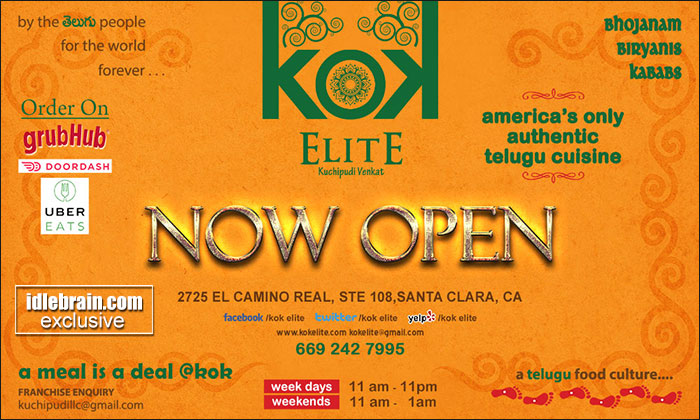 To feature your NRI communty news in idlebrain.com, please mail us at [email protected]
25 October 2017
Hyderabad
KOK ELITE is conceptualized and founded by self styled filmmaker and chef Kuchipudi Venkat who also founded the trend setting restaurants Ulavacharu, 7 Biryanis and Kitchen Of Kuchipudi. KOK Elite is a premium line of restaurants from Kitchen of Kuchipudi showcasing native dishes of Telangana and Andhra regions.
He is the brain behind the now famous Raju Gari Kodi Palav which has become a household favorite among the Telugu community worldwide. Raju Gari Kodi Palav, Bangla Kodi, Kodi Chips, Gongura Mirchi Bajji, Vankaya Chips, 3G Annam, Peddama Mamsam Palav, Raju Gari Bhojanam, Absolute Telugu Buffet (ATB) are some of the headline dishes and meal courses introduced by Venkat. The idea of naming dishes in Telugu which are authentic to the character of Telugu cooking is the innovative style of Venkat.
The innovation at KOK Elite is that the specialities of different regions of Telangana and Andhra are tastefully combined into a range of platters. For the first time in the US, KOK Elite is introducing Konaseema Kodi Palav, Ankapur Chicken, Palamur Mutton Curry, Tamalapaku Bajji to the food lovers. To satisfy the diverse palates of the ethnic Indian community, there is a choice of North & South Indian platters as well.
Bhojanams are always super speciality at KOK with Kuchipudi Bhojanam (Veg/NonVeg), Raju Gari Bhojanam, Thali Amritsari (North Indian Veg/NonVeg) with the option to choose between Limited/Unlimited versions. Not to forget the attractive Kids Bhojanam.
Every order is a meal by itself and every meal is a deal by itself. When a customer orders a signature curry or a juicy kebab, they get a platter with all the accompaniments to make a complete meal.

KOK Elite is distinctly different from the run-of-the-mill Indian restaurants. Here, food is prepared in a homestyle way to give the authentic flavor to each dish. This is in contrast to preparing bulk sauces which are stocked and added to any dish the customer orders by regular restaurants making dishes taste very ordinary. Order a variety of curries from the regular restaurants and notice this yourself. This may be an accepted practice in some cuisines but it is sacrilegious in our cuisine. Team KOK Elite feels it has a social responsibility to bring this to the notice of the trusting Indian food lovers all over the world.
KOK Elite is the only place open from lunch till close at 1am on weekends (Fri/Sat/Sun) and 11pm on weekdays to cater to your busy schedule.
Your fun filled parties can be hosted at our party hall and traditional Telugu food can be catered to your doorstep by the KOK Elite team.

Team KOK and Franchise owners (Samskruti Kitchen Inc.) are proud to announce the launch of KOK Elite at Santa Clara, CA on 26th October 2017.
Offers:
Opening Weekend (26-29 October)
Signature dishes @ $5
Opening Month
10% off on your subsequent visit
Timings:
11am to 11pm Mon-Thur
11am to 1am Fri/Sat/Sun
Location:
2725 El Camino Real # 108, Santa Clara, CA 95051
Phone: (669) 242-7995
Email: [email protected]
Website: www.KOKelite.com
Any person passionate about food and wants to establish our traditional Telugu cuisine through our brands "Kitchen of Kuchipudi" "KOK Grill" "KOK Elite" "7 Biryanis by Kuchipudi" at any location in the world can contact us at:
[email protected] or +1(650) 966-5473 or +1(408) 669-7269 or +9190323 55522
Feedback to founder: [email protected]