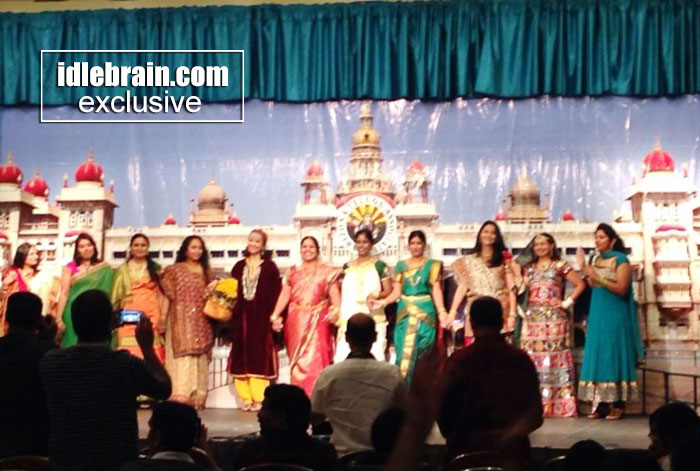 To feature your NRI communty news in idlebrain.com, please mail us at [email protected]
30 April 2014
Hyderabad
Hundreds of Telugu speaking people from the valley gathered to celebrate Ugadi festival in Phoenix, AZ, USA. The event was organized by Arizona Telugu Association (AZTA) at Indo American cultural center on April 19th, Saturday. This year's Ugadi marks the beginning of Telugu New Year called 'Jaya', which means Victory.
The celebration was dazzled by ladies wearing beautiful sarees, kids in cute colorful dresses and many men wearing traditional Indian outfits. It was an evening filled with non-stop Indian music, Bollywood dances and other cultural programs presented by kids and grown-ups as well. Many kids participated in the constume contest and drawing competition conducted by AZTA. Telugu association president Venkat Kommineni distributed prizes to the winners. The audience also enjoyed a captivating movie dance performance by Indian students attending Arizona State University (ASU).
Venkat Invited India Association President Murugan Patham and IACRF president Nate Bhadriraju on to the stage, Dr. Vasu Atluri honored them by giving bouquets to them. Murugan stated that, this year Discover India has the theme, one of the areas selected as Telugu Speaking people. He requested active participation from all Telugu people to show case the area. Later Nate said " We understand that Telengana State was formed for political and social reasons but we all Telugu specking people absolutely need to together". He also mentioned that, As for the Unity and Diversity, IACRF was formed with the mission of bringing all of the Asian Indians under one roof with a Community Center and Ekta Mandir to have them socialize and worship and continue to preserve and promote their diverse cultures as Indians from different regions of India but "United without uniformity" and "Diverse without divisions".
The ladies put on a colorful fashion show, showcasing cultures of different states in India, which was the program highlight. The crowd enjoyed listening to live Telugu karaoke songs while savoring a mouth-watering Indian delicacies for dinner. After dinner, everyone had fun dancing to the beats of popular Indian music. The event clearly demonstrated kids' enthusiasm and parents' interest in keeping up with Indian tradition, language and culture.
The AZTA executive committee (Venkat Kommineni/ Anand Sabapathy/ Laxman Peela/ Dr. Vasu Atluri/ Sudhakar Gopal/ Suresh Pathipati) and volunteers (Janardhan Gurram/ Srinivas Gottipati/ Praveen Reddy Nandikonda /Sagar Mitta/ Jaya Rayaprolu/ Radhika Gandikota/ Padmaja Katikaneni/ Kamalakshi / Khannan/ Syam Prasad/ Rao Bonda/ Narasimharao Lakhamsani / Geeta Kolla/ Samar Da/ Showbha Bonda/ Sahithi / Vijay Kommineni/ Sekhar Kolla worked hard to make this event a grand success.
Special Thanks to our sponsors Venkat Nallapati, Jayaram Kode, Sekhar Kolla, AZIndia, Satish Kosuri, Murali Samanthapudi, Sarit Kommineni, Nataraj Badriraju, Shyam Byra, Satya Koka, Venkat Kommineni, Suri Gunnala, Kiran Vedantam, Chandra Ambadipudi, Dr. Vasu P Atluri, Praveen Reddy Nandhikonda, Laxman Peela etc.