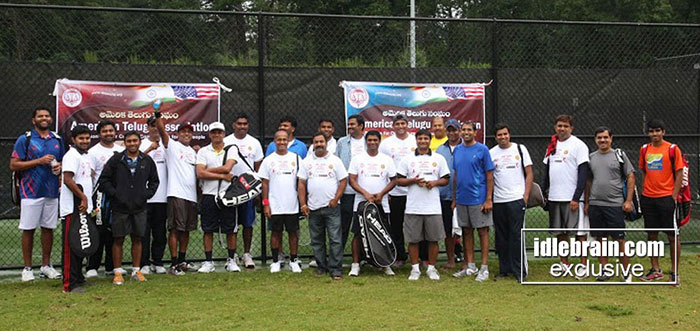 To feature your NRI communty news in idlebrain.com, please mail us at [email protected]
23 August 2013
Hyderabad
Heavens cried but the Tennis Players had the last laugh. A gloomy day turned out to be exciting with 21 teams competing to win the ATA-TAMA Doubles Tennis Tournament held on 17th and 18th of August in Fowler Park and later in James Creek Indoor Tennis Courts.
TAMA in collaboration with ATA conducted the Doubles Tennis Tournament which received a tremendous response from the residents of Atlanta. All the 21 teams were divided into 4 pools based on the draw on 17th morning . 8 Tennis courts were reserved in advance in Fowler Park to make sure that all the teams play continuously. All the rules and format of the Tournament was clearly given to the players in advance so that there is no chance of biasing and the players responded to the tournament with a great deal of sportsmanship.
T-shirts were distributed to all the players and Volunteers. Snacks , Bananas and Energy drinks were provided as Breakfast to the players. The round robin games started under the cloudy skies . The attendees saw the best tennis games played by the many wonderful tennis players that were difficult to believe. The clouds started showering rain in the middle of the tournament and played a spoil sport. But the enthusiasm and exuberation showed by players is too much to postpone the games to a different day. We were able to reserve 3 Indoor Courts in James Creek Tennis Center and continue the rest of the tournament through the end of the day on Saturday where we were able to complete the league games and the Quarter Finals.
Semi-Finals , Finals and 3rd place deciding games were conducted in James Creek Indoor Tennis Courts on 18th Sunday. Harish Velaga and Srinivas Muniganti emerged as winners of the tournament by playing devastating power games defeating the team of Srikanth Reddy and Ramakrishna Reddy in duel of 2 straight sets. Prabhakar Madhupati and Ranadeer Kanathala won the 3rd prize and Sirish and Sanjeev won the 4th prize. Trophies were distributed by the ATA and the TAMA team.
Pizzas and energy drinks were provided to all the players as lunch on both the days. Special Appreciation needs to be given to the Sponsors Karun Asireddy and Kiran Pasham for the financial help in successfully conducting a tournament which needed so much of funding for the reservation of the courts, tennis balls , food and many other items. All the games were monitored by TAMA Sports Secretary Sri Harsha Yerneni , ATA Southeast regional representative Anil Boddireddy and Raghu Banda.
Volunteers played a huge role in conducting the tournament in the most smooth and pleasant way and we would like to thank Venkat Meesala, Mallik Medarametla, Prabhakar Madhupati, Srinivas Muniganti, Mahesh Pawar , Gopi ,Ramu Parupalli and many others . Sorry if we missed any ones name but all of your help is greatly appreciated. The event was captured in the most beautiful way by Devanand Kondur and Murali Kakumani.