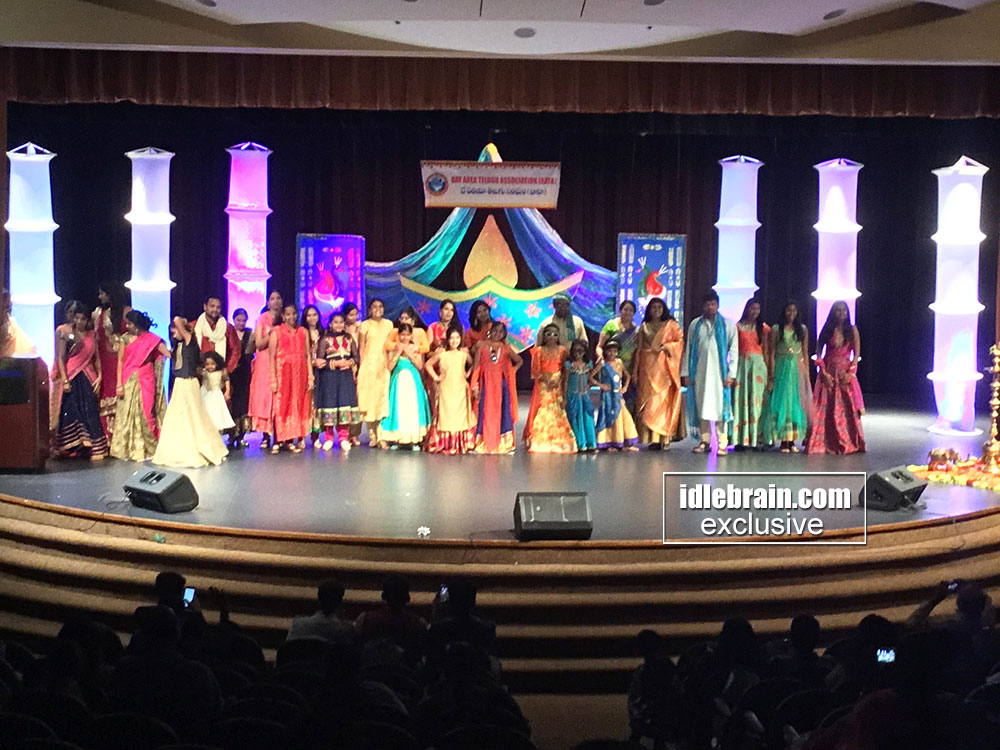 To feature your NRI communty news in idlebrain.com, please mail us at [email protected]
13 November 2017
Hyderabad
Bay Area Telugu Association (BATA) celebrated auspicious "Deepavali" (దీపావళి) in a grand style. It is the BATA "flagship" event and very popular among the Bay Area Telugu community. The event was received tremendous support from Telugu community and well attended. The event started at 5:00 pm and went until 11:00 PM.
The event's presenting sponsor was "You Smile Dental", and Grand sponsor was "PNG Jewelers".
Other sponsors include the realtor Ramana Reddy (Cal Homes), Paatasala (Telugu School), Realtor Manu Changotra, Classic Diamonds, Realtor Lavanya Duvvi, and Times of India. Media partners are Virijallu, Bolly 92.3.
The auditorium was very well decorated with Deepavali diya's and flowers. Lot of clothing, Jewelry and other vendor booths added to the festive atmosphere.
The program started at 5:00 pm. Vijaya Aasuri (BATA advisor) welcomed all the guests.
Program Highlights:
Boochamma-Boochodu (బూచాడమ్మ- బూచాడు) Halloween continues at BATA Diwali and that too in Halloween ishytle. With colorful Costumes, Characters involving Kids.
Radha-Madhaveeyam (రాధా మాధవీయం) - Where little kids dressed up as Krishna & Radha.
Bahubali - Paatasala (Telugu school) students presented this hilarious skit & it was one of the highlights of the evening. Audience were awe struck by the kid's performance & cheered their performance.
Standup comedy – By Anil was rib tickling and audience thoroughly enjoyed his jokes.
Bahubali spoof – by Varun was very entertaining and received very good response.
Seethe Maar – BATA youth team presented high energy & foot tapping dance numbers.
Parampara – Traditional fashion show by adults & kids. With colorful and vibrant looking costumes, they dazzled the stage.
BATA cultural team members conducted training classes at various locations – Fremont, San Ramon, Milpitas, Cupertino & San Jose. The team thanked all the participants for their cooperation.
Consul Sri. K. Venkata Ramana (Consulate General of India, San Francisco), AP Govt Special Representative to North America Mr. Jayaram Komati, Tollywood Actor Ravi Varma, and Tollywood singer Sahithi were the dignitaries for the evening; All the dignitaries have conveyed Deepavali greetings to the attendees and congratulated BATA team for putting together very entertaining show and promoting the rich Telugu Culture.
Tollywood singer Sahithi (Super singer fame), mentioned she is very happy to perform on prestigious BATA stage. She sang chart buster hit songs and invited everyone to join her on stage.
Speaking on the occasion Sirisha Battula (President) thanked BATA team members & all the volunteers for their hard work and making the event a grand success.
Sirisha introduced BATA executive committee consisting of: Yaswanth Kudaravalli (Vice President), Sumanth Pusuluri (Secretary) Harinath Chikoti (Treasurer) and Kondal Rao (Joint Secretary).
"Steering Committee" consisting Ravi Thiruveedula, Kamesh Malla & Kalyan Kattamuri.
"Cultural Committee" includes Sridevi Pasupuleti, Srilu Veligeti & Taraka Deepti.
"Logistics Team" includes Prasant Chinta, Arun Reddy& Varun Mukka.
BATA "Advisory Board" Jayaram Komati, Vijaya Aasuri, Veeru Vuppala, Prasad Mangina, Karun Veligeti & Ramesh Konda.
BATA team thanked the sponsors for their continued support and presented them with plaques.