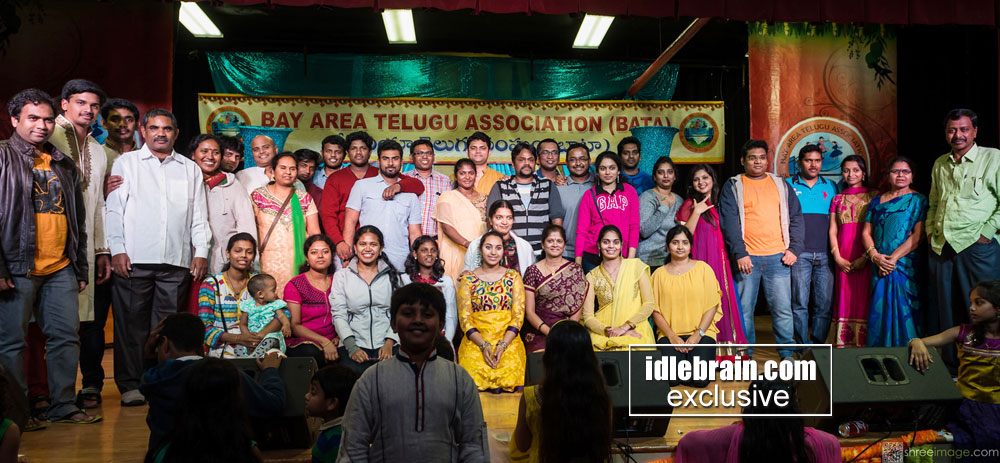 To feature your NRI communty news in idlebrain.com, please mail us at [email protected]
23 January 2015
Hyderabad
Bay Area Telugu Association (BATA) celebrated Sankranti festival in a grand style by hosting various activities such as Cooking (వంటల పోటీలు), Muggulu (రంగవల్లి ముగ్గుల పోటీలు) , Singing contest on Sri M.M. Keeravani songs, "Bommala Koluvu', "Paatala Pallaki" musical concert, Popular on-stage game show and foot tapping dances. Over 1000 guests attended the glittering event which started at 1:00 pm and went until 10:00 pm.
The auditorium was decorated promoting ethnic and festival look of Sankranti, and the main stage had multicolor backdrops and colorful kites. The decorations coupled with the traditional outfits by the audience, participants & BATA volunteers reflected a festive atmosphere.
The program started with special singing contest on popular music director Keeravani songs his show is on Jan 23rd in Bay Area. More than 50 plus singers in all age groups participated in this program. Popular Tollywood singer Sahithi Pydipalli attended as special guest was part of the judging panel. Other members included Ravi, Manasa & Keerthi. Srilu and Sridevi coordinated this segment & it was sponsored by 24 mantra Organic foods.
In parallel, cooking competitions for adults (Super Chef), kids (Little Chef) and also colorful Rangavalli contest was organized. Kids got the ingredients from home and prepared a food item of their choice on the spot without any assistance from parents. The kids demonstrated their cooking prowess with a wide variety of items.
Super Chef showcased the cooking talents of men and women; Appetizers, Main dish & Desserts were the three categories. Sumanth, Kondal & Prashant coordinated the cooking competitions. Vinay (Biryaniz), Prashant (Lotus) & Srinivas led the judging team.
The finished Rangavalli was a sight to see and brought nostalgic memories of India. Krishna Priya, Madhavi & Harinath coordinated these competitions.
Students from "Paatasala" Telugu School (Initiative by Telugu Times and BATA to promote and teach Telugu language) presented songs, poems, Skit & Folk dances. It was amazing to watch the little kids motivation and commitment to learn and perform in Telugu language. Paatasala is running successfully in Bay Area with more than 5 locations & with over 250 students.
The main cultural program started at 5:30pm. Vijaya Aasuri (BATA Advisor ) officially kicked off the evening cultural program by inviting all the kids for "BhogiPallu". The congregation of kids & devotional songs by parents and grandparents made it seem like a big family gathering – "VasudhaikaKutumba". The elders gave the blessings to all the kids.
Nrityananda dance (HimaBindu Challa) school students presented a classical dance ballot. Tollywood dances by AeroDance group (Ranjani Manda), Race Gurram dance Medley and Aattam Group (Super Machi) are some of the other dances presented.
"Paatala Pallaki" a beautiful medley of old and new hits was the next program to follow... The audience thoroughly enjoyed the program and encouraged all the singers. The singers presented a very entertaining program. Prasad Mangina who coordinated this program, thanked & introduced all the singers.
Dr. Ramesh invited the special guests for the evening Sri. Venkata Ramana (Indian Counsulate – SFO) and Dr. Karl Wang (Provost from International Technological University). Both the guests conveyed Sankrati greetings to all attendees and praised BATA for organizing the festival.
One of the most popular programs, was the On-stage quiz competition with Audio and Video based games show. It included movies, trivia and many more entertaining topics. This was one of the highlights of the event. The participants and the audience thoroughly enjoyed the program. Kalyan and Vijaya conducted this program.
There was a huge support for this event from the businesses. Ravi Tax Services and Cal Homes were the Grand Sponsors. Other sponsors include You smile Dental, Lavanya Duvvi, Swagat Indian Cuisine, Scopus Consulting Group, International Technology University (ITU), Nitin Jewelers & 24 Mantra. Media partners include Virijallu Radio, Desi 1170am,Telugu Times, TV9 & TV Asia.
Kalyan Kattamuri, President of BATA, thanked all the audience for gracing the occasion and all the participants for their enthusiastic participation in the competitions and cultural programs.
Kalyan introduced the BATA executive team consisting of Sireesha Battula (Vice president ), Yaswanth Kudaravalli (Secretary), Sumanth Pusuluri (Treasurer ) & Harinath Chikoti (Joint Secretary).
"Steering Committee" consisting of Ravi Thiruveedula & Kamesh Malla.
"Cultural committee" includes Sridevi Pasupuleti, Srilu Veligeti, Kiran Vinnakota & Taraka Deepti
"Logistics Committee"consists of Srikar Boddu, Naresh Gajulu, Arun Reddy, Prashant Chinta & Kondal Rao.
BATA "Advisory Board" Jayaram Komati, Vijaya Aasuri, Veeru Vauppla, Prasad Mangina, Ramesh Konda & Karun Veligeti congratulated all the team members.
BATA Committee thanked all the volunteers for their help in making the program successful.
BATA Committee also thanked the Sunnyvale Hindu Temple management for their support.