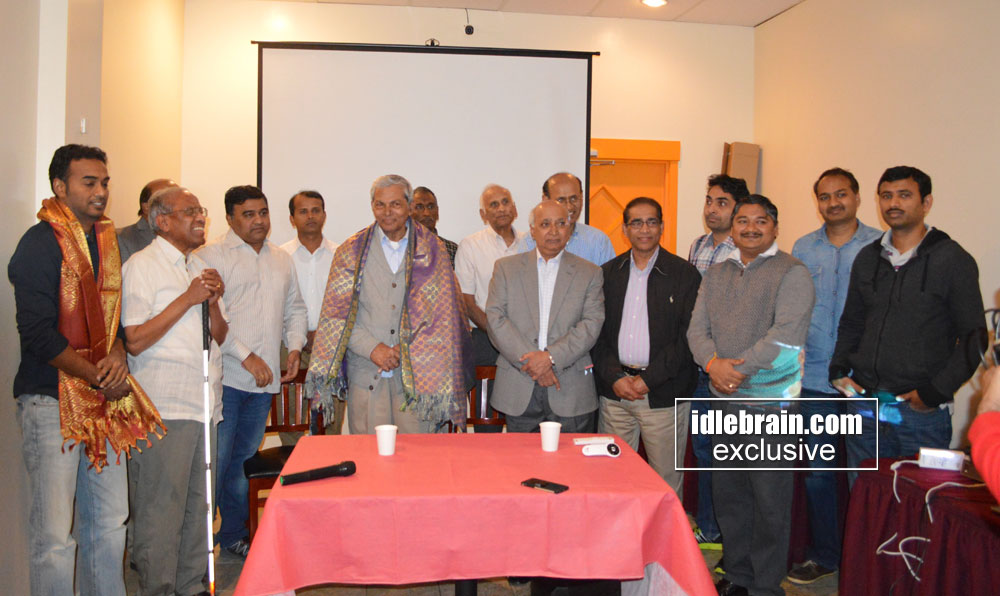 To feature your NRI communty news in idlebrain.com, please mail us at [email protected]
15 November 2016
Hyderabad
Freedom Fighter and Kisan (Raithu) Leader Acharya NG Ranga's 116th Birth Anniversary was celebrated at a grand scale in Norristown, PA on Sunday November 13th 2016. Dr.Narisetti Innaiah, Renowned Journalilst and Dr.Guttikonda Ravindranath, Founder member of TANA attended as chief guests for the event. TANA Joint Secretary Ravi Potluri organized the event. Nagaraju Nalajula & Sai Jarugula coordinated the event.

The event began with Nagaraju Nalajula welcoming the guests Dr.Narisetti Innaiah and Dr.Guttikonda Ravindranath. A glimpse of Innaiah's interview with Prof.Ranga from 1985 for Dooradarshan caught applauds from the audience. Recalling his experiences, Innaiah narrated the life events of Prof.Ranga, his visit to USA in 1948 when he called upon President Truman and pleaded for giving importance to peasants in public policies. He also highlighted the events in Ranga`s long career and how he struggled to protect peasants from collective farming. He also explained how Ranga with the help of several national leaders prevented soviet model farming where peasants lost their freedom. He pleaded that TANA and all major national and local level organizations should organize frequent excursions to farmhouses in USA.
Dr.Guttikonda Ravindranath shared his personal experiences with Prof.Ranga and his family. He pleaded for a thorough research and study of Ranga's life by kids of younger generations. Suresh Ediga (i4farmers) from New Jersey shed light into the suicides in Telugu states and emphasized the need to educate farmers and bring their bottleneck issues to the public's notice for immediate action. Ravi Potluri, Joint Secretary of TANA mentioned that TANA will focus on lending helping hands to farmers in distress. TANA Agriculture Committee has identified various projects to support AP/Telangana farmers. Distribution of Personal Protection Equipment (PPE) to reduce the exposure of farmers/farmworkers to toxic pesticides and soil tests to reduce indiscriminate application of synthetic fertilizers etc. Veluvolu Syambabu shared his personal experiences with Ranga and his political career.
TANA (Telugu Association of North America) supported the event. Other Prominent community leaders attended the event are Satish Tummala, Naidu Motupalli, Sudhakar Pavuluri, Rajani & Srinivas Karuturi, Saradhi Kosaraju, Suryadevara Basavaiah, Gopi Vagvala, Jagadish Anumolu, Suresh Reddy, Sreedhar Gudala, Prasad Kunarapu etc.