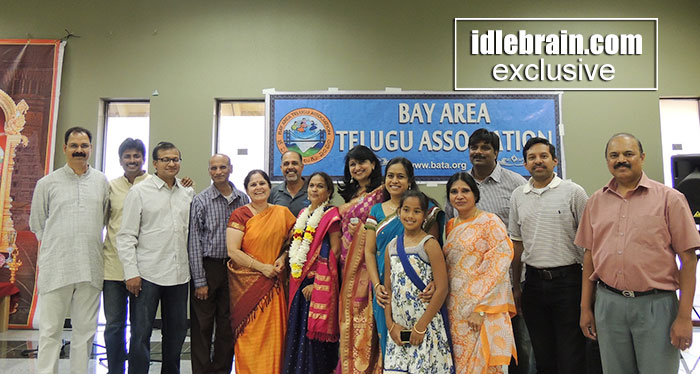 To feature your NRI communty news in idlebrain.com, please mail us at [email protected]
25 June 2014
Hyderabad
Bay Area Telugu Association (BATA) in association with Sri Satyanarayana Swamy Temple (Veda) in Milpitas, California organized "Harikatha" on "Sri Srinivasa Kalyanam". The guests of all age groups had great devotional time and witnessed highly accomplished Harikatha performance by the well-known Bhagavatharini, Smt. Jayanti Savithri of Tirumala Tirupati Devasthanams (TTD). The event was conducted at Sri Satyanarayana Swamy Temple in Milpitas, California. There were over 300 guests.
The temple auditorium was traditionally decorated. BATA advisor Vijaya Aasuri welcomed all the guests and mentioned Harikatha is a art form comprising of storytelling, poetry, music, drama, dance, and philosophy. It is one of our traditional art form through which we used to learn many devotional stories.
Smt. Jayanti Savithri started the program by thanking BATA and Sri Satyanarayana Swamy (Veda) Temple for giving her the opportunity to perform. Smt. Jayanthi's inspired rendition of Sri Srinivasa Kalyanam moved the audience, and her gestures and dance while telling the story made as if the audience were watching the real happenings. Smt. Jayanthi's immense performance showed her expertise and heart into the Harikatha! She displayed the mastery in poetry, literature, dance, drama, and music in abundance and enthralled the guests with a re-telling of Srinivasa Kalyanam with kirthanas and bhajans, all sung melodiously . All the guests enchanted "govinda..govinda" along with her, also guests joined their tunes with her for all kirthanas during the performance. The fact that the guests sat throughout Harikatha without taking any break for almost 2 hours is a testimonial to the enjoyable performance.
Sri Marepalli Naga Venkata Sastri (Founder and Chairman of Sri Satyanarayana Swamy Temple) thanked all the guests for attending the event and supporting our rich traditions. Sri Krishna Viswanadham (President of Sri Satyanarayana Swamy Temple) expressed happiness for being part of this event, and he stated that their team always supports devotional and musical events.
The afternoon ended with felicitation of Smt. Jayanti Savithri by BATA members with shawl and a memento in appreciation of performance. Speaking on this occasion, Vijaya Aasuri of BATA praised Smt. Jayanti Savithri's dedication and expertise in the Harikatha art form, and said that it is a rare opportunity for the Bay Area people to attend this event. Vijaya thanked all the guests and the management of Sri Satyanarayana Swamy Temple for making this event successful.
Speaking at this event, Kalyan Kattamuri (President of BATA) thanked Smt. Jayanti Savithri for a wonderful Harikatha performance which illustrated Srinivasa Kalyanam . BATA committee included Sirisha Battula (Vice President), Yaswanth Kudaravalli (Secretary), Sumanth Pusuluri (Treasurer) Harinath Chikoti(Joint Secretary).
"Steering Committee" consisting of former BATA presidents Prasad Mangina , Ravi Thiruveedula, Ramesh Konda & Kamesh Malla.
"Cultural Committee" includes Sridevi Pasupuleti, Kiran Vinnakota,Taraka Deepti & Rathna Pandian.
"Logistics Team" includes Srikar Boddu, Naresh Gajula & Hari Moyyi.
BATA "Advisory Board" Jayaram Komati, Vijaya Aasuri & Veeru Vuppala congratulated the team in making the program a grand success.