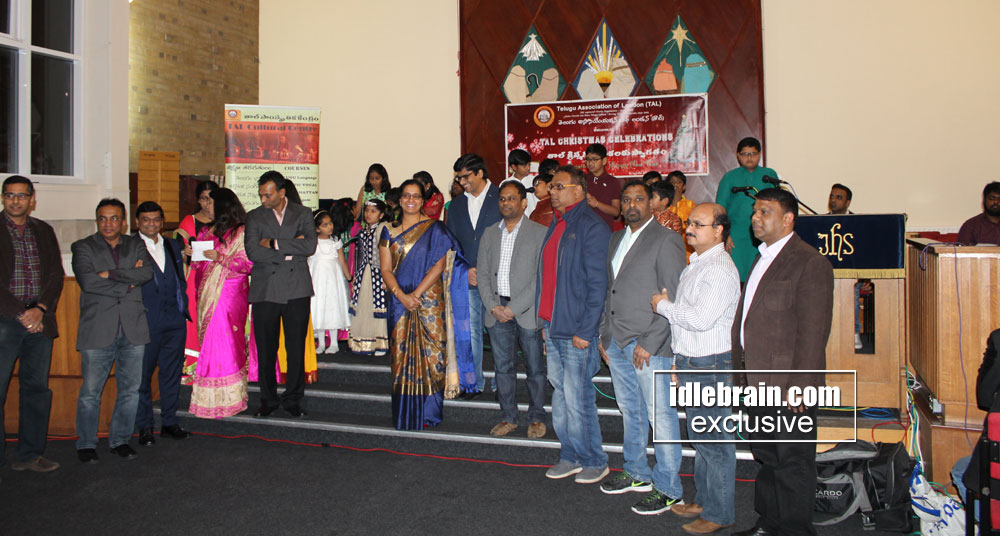 To feature your NRI communty news in idlebrain.com, please mail us at [email protected]
4 December 2017
Hyderabad
Telugu Association of London (TAL) Christmas Celebrations 2017 were held in London on 2ndDecember 2017 at Pilgrim's Way Church, Eastham. TAL is celebrating Christmas for the last 9years in London by inviting various Telugu Churches in London. This year members,ministers and Pastors of "Bethel Ministries Telugu Church, Eastham Baptist Church, TheLighthouse Fellowship, Manor Park Church, Vision Ministries Church, Praise Harvest and otherchurches" were participated.
Adults sang Traditional Carols. The Children sang special Christmas songs and presented askit about the birth of Jesus, a natively play in "Telugu with children first time" in TALChristmas celebrations history. Children skit stood as the main attraction of the event.Pastor Salomi, Pastor Sharmila and Pastor Dominic have offered prayers and spoke about theimportance of Bible and the life of Jesus Christ. They praised the efforts of TAL in organisingthe event and offered prayers for the wellbeing of humankind and world peace.TAL Chairman Sridhar Medichetty conveyed Christmas wishes to the community and praisedthe efforts of Ravi Mocherla, Jemima Dara, Ratnakar Dara, and their team who shouldered theevent and made an extraordinary this year.
More than 300 members from Telugu communities in and around London have participatedand experienced the magic of the season. A number ofchildrendressedasSantaClauses andsurprised all the kids with gifts. Event concluded with a special dinner.These celebrations have been webcasted live over TAL Facebook, which a number of Telugupeople around the globe watched.TAL Trustees Sridhar Medichetty, Sridhar Somisetty, Mallesh Kota, Nirmala Dhavala, SrinivasReddy Konreddy, Giridhar Putlur and other TAL members were present in thesecelebrations.
Telugu Association of London (TAL) is a not-for-profit organisation first ever widely known Telugu charity in theUK (registered charity no. 1137074). TAL was formed in April 2005 with a motto of Unite, Cherish and ShareTelugu Culture.TAL organises various events throughout the year to promote the Telugu Culture:• TAL Culture Centre (runs weekly) to provide Telugu language classes, Bharatanatyam (Indian classicaldance), Carnatic Vocal (Indian classical vocal), Bollywood Dance.• TCC Children's day• TyagarajaAaradhanotsavalu (commemorating sage poet)• Kuchipudi Workshops• Literary activitiesAs part of sports initiatives, TAL organises:• Badminton• Chess• Volleyball tournament• TAL Premier League (a 20-20 format Cricket championship)TAL is part of Diwali in London (DIL) committee which organises Diwali Celebrations on the Trafalgar Square inLondon in association with the Mayor of London.TAL has restored the memorial of Charles Philip Brown (a British born Telugu Scholar) in the Kensal GreenCemetery London, in due respect to his services and contribution to Telugu language in the 19th Century. TALhad an honour to felicitate Charles Cotton, a great grandson of Sri. Arthur Thomas Cotton. Sir Cotton was aBritish general in the 18th century and an engineer who devoted his life for irrigation projects that helpedmillions of Telugu farmers.
TAL recognises achievements of various artists, performers and exponents and brings their works to thousandsof new audiences in our annual Ugadi celebrations in London.TAL brings out a cultural souvenir "Maa Telugu" every year with works from various artists, authors, writers,scientists, professionals, students, business communityetc. TAL appreciates cultural artists for their excellentwork and felicitates with "Cultural Excellence Award". TAL recognises an individual's lifetime dedication to thecommunity and contribution to the humanity and society in Britain and felicitates with TAL Life TimeAchievement (LTA) award.
TAL is the biggest Telugu community organisation in the Europe in terms of organising number of eventsspanning 40 weeks in a calendar year. TAL is a non-partisan, nonpolitical community organisation that connectsall Telugu speaking people in and around London.