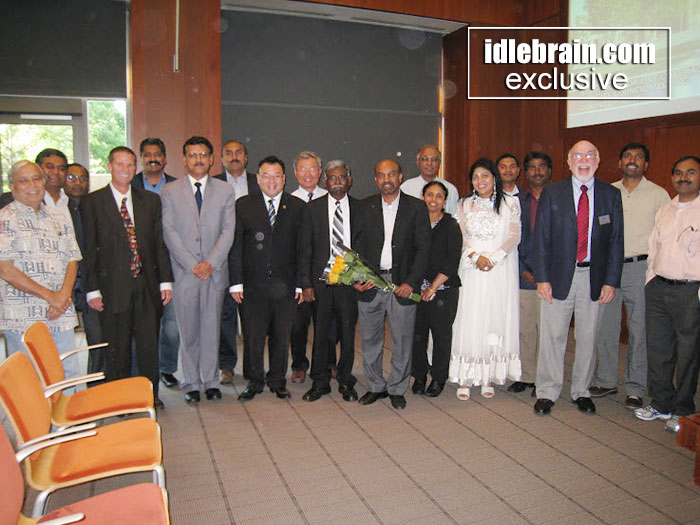 To feature your NRI communty news in idlebrain.com, please mail us at [email protected]
4 June 2014
Hyderabad
The city of Cupertino, located in San Francisco Bay area or Silicon valley, California, headquarter to the world's highest valued company Apple Inc., on June 2nd recognized Telangana day and also officially recognised the 29th state of India per Vijay Chavva citing Cupertino City Mayor Gilbert Wong
Cupertino Mayor Gilbert Wong issued a "Certificate of Recognition recognizing the formation of the new 29th state of India, Telangana". Indian Dy Consul General at San Frasisco T. Baskaran and Consul Anand Kumar Jha from Consulate General of India, San Francisco, along with Telangana Cultural Association members Vijay Chavva, Bhaskar Maddi, Prasad Gattu, Saideesh Ajjan, Raju Yasala, Chandrakala Sriramdas, Baleshwar Indarapu and other Bay Area Telanganites Jagan Bearelly, Srinivas Manikonda, Surender Penchala received the certificate from the Cupertino mayor.
On Monday, June 2nd, on a busy working day evening, Large number of Telanganites of San Francisco Bay/Sillicon Valley area gathered at the Cupertino City hall to attend the city meeting where issuance of "Certificate of Recognition" ceremony took place. Many elders from Telangana who were visiting their kids in Bay Area also took the opportunity to join the celebrations at the city hall. The city council started its proceeding for the special day by assembling at 6.45 PM in the evening. The first items on the agenda of city was to issue the Certificate of Recognition of 29th state of India. Speaking on the occasion Mayor Gilbert Wong, praised the Indian democracy as highly vibrant and dynamic, and recognized the strength of democracy to fulfill the aspirations of people in a peaceful and democratic way. The Mayor cited examples of the election of the new prime minister of India Narendra Modi and the peaceful culmination of 60 years of struggle to achieve Telangana state, as how democracy works for the people. The Mayor conveyed his best wishes to the people of Telangana for a bright and prosperous future. Consul T. Baskaran, speaking on the occasion, mentioned that now it was the time to build Telangana, as the dream for new state was now fulfilled. He mentioned to the gathered crowd that he is going to send the "Certificate of Recognition" from the city of Cupertino to the Chief Secretary of the newly formed Telangana state.
The Mayor of Cupertino, Gilbert Wong also took the opportunity to issue a Certificate of Recognition to "Telangana Cultural Association" of San Francisco, Bay Area, California for its cultural contribution to the diversity of the city of Cupertino. The certificate was received by Vijay Chavva, Bhaskar Maddi, Chandrakala Sriramdas, Saideesh Ajjan of Telangana Cultural Association. Many prominent Telangana people of bay area - Shravan Sriramdas, Bhavani Srinivas joined the event.
Speaking on the occassion Sri Vijay Chavva said Silicon Valley which is technological capitol world observing Telangana day on June 2nd and proclamation of 29th state is a pride to all Telanganites. He also said TCA team is comitted to serve cupertino city in all its charitable activities and make the living place as a wonderfull one. He thanked Dy CGI, Mayor for taking special interest in this event.