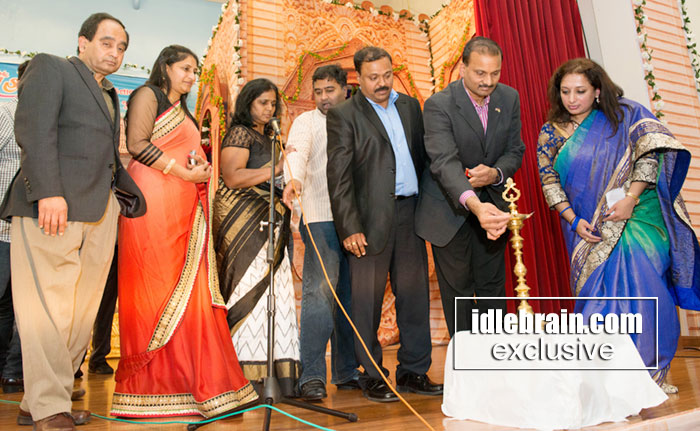 To feature your NRI communty news in idlebrain.com, please mail us at [email protected]
06 May 2015
Hyderabad
Edison, New Jersey: Telugu Association of North America (TANA) in association with TV9 organized "Dhim TANA Competitons" on Sunday May 3rd, 2015 at Shri Swaminarayan Mandir Auditorium in a from 2PM to 9 PM. Almost 120 people participated in these competitions which included solo singing, group dancing, Miss Teen TANA, Miss TANA and Mrs. TANA categories. The winners in each of the categories were announced at the end of the program.
The program was kicked off with welcome note by TANA Mid-Atlantic Regional Representative Ravi Potluri, who also coordinated the event with the support of Mrs. Laxmi Devineni, TANA Mid-Atlantic Regional Coordinator (Elect).
Mrs. Manju Bhargava conducted Singing & Dance segment, flawlessly. 10 year old kid Aparna vagvala anchored the Singing & Dance competitions. Mr. Damu Gedala provided excellent support for this segment. Accomplished singers and dancers Puttaparthi Naga Padmini, Durga Aiyer, Nirupama Sreeram, VishalkDuvvuri, Chandrika Yamjila, Sarala Kommaravolu & Vamsi Priya are the judges for the singing & dance categories. More than 100 contestants competed in the singing & Dance category.
CLASSICAL Singing
SUB JUNIOR category Winner Shrika Harikrishna
JUNIOR category winner Aasha Yeluri, Second Aditya Gunturi and Third Vaishnavi Pitta
SENIOR category Winner Shruthi Nanduri Second Priya Bhargava.

FILM/FOLK Singing
SUB JUNIOR Category Winner Shravya
JUNIOR Category Winner Kavya Borra, Second Aasha Yeluri, Third ditya Gunturi
SENIOR Category winner Shruthi Nanduri Second Brahmini Vanama.

CLASSICAL DANCE
SUB JUNIOR Category winners Anusha Vakkalagadda, Samitha Pokkunuri (Item: Jathiswaram) Second Prize Saveena, Moukthika (Item: Nagadeva)

JUNIOR Category winners Saanvi Kunisetty, Shravani Vedagiri (Ietm: Shiva Parvati) Second Aruhi Vakkalagadda, Arthi Vijay Kumar (Item: Brindavane Nilaye) Third Sharanya, Meghana, Vihita Lasya, Tarika, Aasha Item: Natesakautvam)
SENIOR Category Winners Sindhu Billakanti, Keerthi Adusumilli (Item: Ambhastkam)
FOLK/FILM DANCE
SUB JUNIOR Category winners Saveena, Moukthika, Sahasra, Priyanka, Mahisvi, Sanvi, Snigdha, Akshara (Item: Mokka Jonna Tota Lo)
JUNIOR First Prize Bhavya Kilambi,Maansi Kondai,Hamsini Pokkunuri (Item: Eruvaaka Sagaroi)
Second Sharanya, Meghana, Vihita Lasya, Tarika, Aasha (Item: Madura Madura Tara Meenakshi)
SENIOR Winner Viraja Kottamraju, Shivani Kommireddi, Deeksha Kommireddi (Item: Vedam anuvanuva naadam)

All the first prize winners will be given a chance to participate in the Grand Finale at TANA Convention in Detroit, Michigan to be held during the Independence day weekend of July 2nd to 4th. All First Prize Winners will be given a CASH AWARD of $300/- by Arun Guthikonda Endowment Fund.
Beauty pageant has been designed and managed superbly by Durga Balusu. In the Miss Teen competitions winner is Pooja Nandhyala and first runner-up is Rima Peddi and second runner-up is Aishwarya Mudambi. In the Miss TANA competitions winner is Samyukta Balakrishna and first runner-up is Sanjana Uppaluri. In the Mrs. TANA competitions winner is Shravni Macha and runner-up is Sandhya Yarlagadda.
All the winners and participants received certificates and medals. The event which ran for over 8 hours included young and energetic participants who captured the hearts of the audience with their mesmerizing performances.
TANA President Mr. Mohan Nannapaneni attended as chief guest and gave a captivating and inspiring speech which received thunderous applause from the audience. TANA Secretary Satish Vemana (who elected as TANA Exec Vice President in the recent TANA elections) also attended the event, Damu Gedala and Ravi Potluri felicitated Mohan Nannapaneni and Satish Vemana. TANA Leadership felicitated Manju Bhargava, Durga Balusu, Damu Gedala for helping TANA to organize the DhimTANA competitions in New Jersey.
TANA New England Regional Representative Rao Yalamanchili, TFAS President Srini Gandi , TAGDV Treasurer Kiran Kothapalli, TANA Committee Chairs NRC Naidu, Raghu Yeddulapalli, Vidya Garapati, Nagaraju Nalajula, Srinivas Oruganti and other prominent telugu community members: Shivani Tana, Ratnasekhar Mulpuri, Srinivas Nadella, Srinivas Bhartharvarapu, Mahesh Pogaku, Satya Nemana, Gopi Vagvala etc attended the event and provided support.
In the Vote of Thanks, Ravi Potluri thanked the sponsors Prakash Battineni (Bell Info Solutions), Vidya Garapati (Movers.com), Satish Vemana, Nagaraju Nalajula, Raghu Yeddulapalli, Kiran Kothapalli, Gopi Vagvala, Srinivas Oruganti, Damu Gedala. He also extended heartfelt thanks to each and every person who worked hard to make the event a grand success.